Dr. Senait Fisseha - CIRHT Founder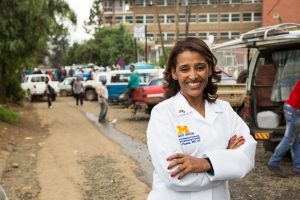 It was always Dr. Fisseha's intention to give back to Ethiopia after she finished her medical and law studies. At the University of Michigan, she rose to become Chief of the Division of Reproductive Endocrinology & Infertility and then Medical Director at the Center for Reproductive Medicine. That platform allowed her to deepen her involvement in the country. Discussions with the then-Health Minister of Ethiopia, Dr. Tedros Adhanom, inspired the establishment of a partnership with the St. Paul's Hospital Millennium Medical College in Addis Ababa, to fully integrate Family Planning and Reproductive Health into the medical school's curriculum. Dr. Fiseha's work for the success of that pilot led to the creation of CIRHT-UM and its expansion to nine other medical schools across the country.
Dr. Fisseha chaired Dr. Tedros' successful campaign in 2016-2017 to the become the first ever African Director-General of the World Health Organization and chaired his transition team. She led the recruitment of the senior leadership team that for the first time represented top talent from 14 countries, including all WHO regions, and is 60% women. Dr. Fisseha will remain as the Chief Advisor to Dr. Tedros while retaining her job as the Director of international Programs at the Susan T. Buffett Foundation.
While maintaining her role as an adjunct professor of OB/Gyn at Michigan, she has become a global advocate for training and capacity-building in FP and RH, working to reduce maternal morbidity and mortality and help women control of their lives and participate fully in society.
She was honored in 2017 as one of only 20  recipients of the U-M Bicentennial Alumni Awards, citing her "global leadership in expanding reproductive health services, especially in developing countries."