Welcome to KIGALI
Learn more about where CIRHT-Kigali 2022 conference is taking place.

We are excited to bring CIRHT-Kigali 2022 to Kigali City from 5-7 October 2022. It is near the nation's geographic centre in a region of rolling hills, with a series of valleys and ridges joined by steep slopes. The city has been Rwanda's economic, cultural, and transport hub since it became the capital following independence from Belgian rule in 1962.
The city of Kigali is one of the five provinces of Rwanda, with boundaries set in 2006. It is divided into three districts—Gasabo, Kicukiro, and Nyarugenge—which historically had control of significant areas of local governance.
CIRHT-Kigali 2022 will take place at 
Serena Hotel Auditorium/Ballroom
. Serena hotel is situated in Central Kigali, the ambassadorial and commercial heart of Rwanda, and the city's pre-eminent meeting place for diplomats and businessmen. Relaxed yet elegant, the hotel features an executive lounge and Bar and one of the city's most popular venues, the Milimani Restaurant styled to offer a classically elegant interior and a light filled atrium overlooking the verdant tropical gardens.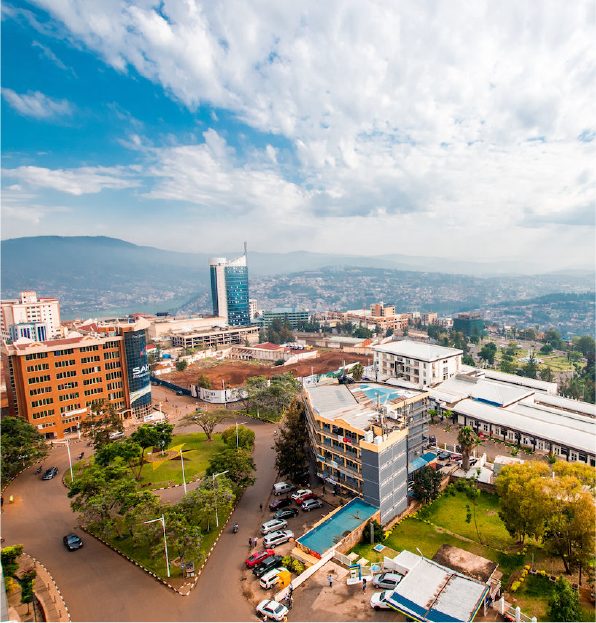 Colorful car free zone – located at KN 128 Street, Kigali!
Commonly known as the capital point of the city, Biryogo is known for the variety of cultures and foods.
It was only around 6:00 PM on a Monday evening and the colorful car free zone in Nyarugenge district's Biryogo suburb was already 'on fire'. As I stroll between vases that separate the main road from the beautiful zone painted in green, blue, white and grey, the environment was already vibrant. In open air, people were seated at communal tables in front of tea bars and restaurants in the middle of the road, laughing out loud, while others were walking through like they had a busy day… Read more
.
KBC Building, 2nd Floor, Kigali-Rwanda
Mobile Number: (+250) 788 301 970
Booking Number: (+250)788 383 999
Email: booking@kigalicitytour.rw / info@kigalicitytour.rw
Kigali Sight Seeing Bus  
Kigali is a thriving city immedialtely notable for its cleanliness, orderliness and good hospitality. It offers tourists some of the best tour experiences on the African continent. Kigali Sightseeing Bus elevates the experience to a new level by giving tourists the opportunity to see the very best of tourist attractions. The luxury double-decker open roof buses offer incredible views of the beautiful City of Kigali. For more ….
A PLACE OF REMEMBRANCE & LEARNING
The Kigali Genocide Memorial is the final resting place for more than 250,000 victims of the Genocide against the Tutsi
KWIBUKA 

28
.
Rwanda Cricket Stadium, also known as Kicukiro Oval, is a cricket ground in Kigali, Rwanda. The stadium is officially titled the Gahanga International Cricket Stadium.
The trace of a bouncing cricket ball or the form of the surrounding Rwandan hills – that's how Light Earth Designs (LED) conceived its latest building, a new cricket pavilion for the Rwanda Cricket Stadium Foundation and the first and only international standard cricket ground in the country. It's a neat metaphor for the building, which drops in height from 15m to 12m to 8m as it tumbles down its sloping site.
Kigali Car-Free Zone is a popular center in Kigali that relies primarily for walking or cycling for transport.
In 2021, the Rwandan government considered an expansion and rebranding of this zone to improve congestion and infrastructure, for environmental and quality of life benefits. It is located on Road KN4 Avenue, and the rebranding zone is named "Imbuga City Walk".
.
At around 5 pm on the evening of Friday, February 25, KG 18 Avenue one of Kigali's most entertainment hotspots located at Gisimenti, was closed to motorized traffic for the very first time.
This was in line with a recent directive by the City of Kigali to allow the bars and eateries on this street to expand their seating area outdoors for the convenience of their revelers.
Other Places worth a visit
CRAFT SHOPS

: you will find various souvenir shops,

Makuza Peace Plaza UTC Mall,

Chic Building Kigali

,

Grand Pension Plaza

are some of the places to discover Rwandan handcraft products.

ART GALLERIES

:

IPFUNDO Art Gallery @ KN 67 St

; 

NIYO Arts Gallery @

KG 572 St

; and

Inema Arts Center @ KG 563 St.

NYAMIRAMBO WOMEN CENTER

@ KN 132 St;

 

NYANDUNGU Urban Wetland Eco Tourism Park @ KN 132 St
FAZENDA SENGHA RECREATIONAL VILLAGE
INTERNATIONAL & LOCAL CUISINE: Chomad Bar & Grill; Café Neo;
HOTEL EXPERIENCE: There is a wide range of hotels, ranging from 2 to 5 stars for a full hotel experience.