Revamping the Culture and the Practice of Research among Obstetrics / Gynecology (Ob-Gyn) and Midwifery Faculty in Ethiopia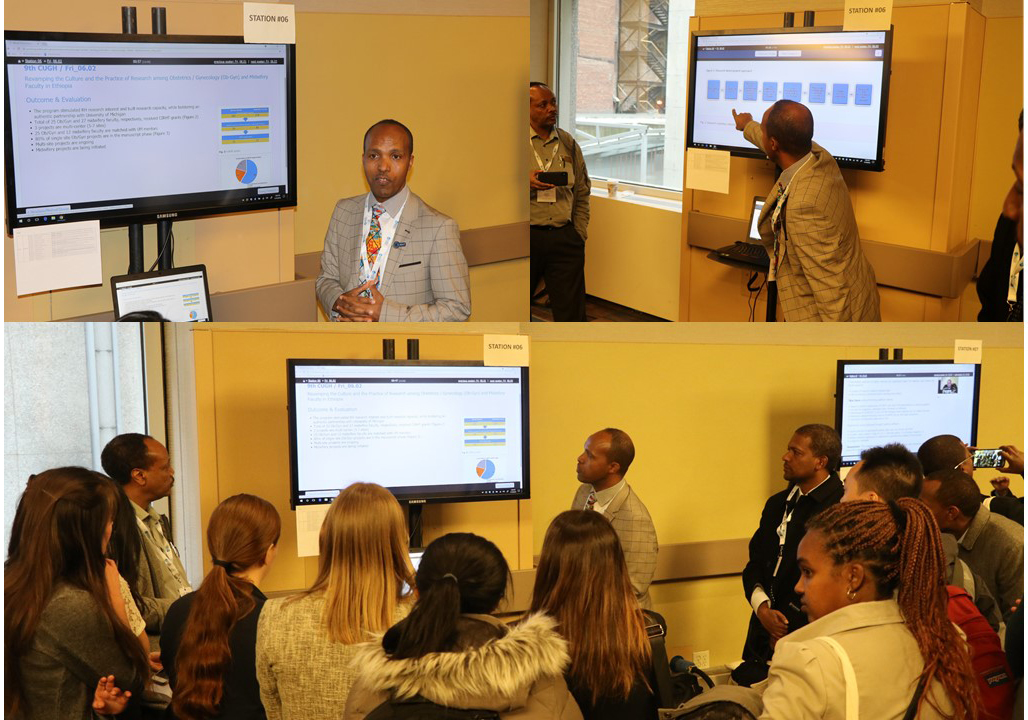 H. Damtew1, Y. G. Tilahun2, Y. G. Tadesse3, B. G. Gebremeskel4, L. T. Gebremedhin5, T. Endale6, G. K. Rana7, Y. R. Smith8
1CIRHT-Ethiopia, Addis Ababa/ET, 2CIRHT, ETHIOPIA, Addis Ababa/ET, 3CIRHT, Ethiopia, Addis Ababa/ET, 4University of Michigan, Ob/Gyn, CIRHT, Ann Arbor/US, 5University of Michigan, Ob/Gyn- CIRHT, Ann Arbor/US, 6CIRHT, Vienna/AT, 7University of Michigan, Taubman Health Sciences Library, Ann Arbor, MI/US,8University of Michigan, CIRHT, Ob-Gyn , Ann Arbor/US
 Program/Project Purpose
Although ample evidence demonstrates the impact of research in improving population health outcomes, there is a dearth of Reproductive Health (RH) research in most Ethiopian universities.
In a needs assessment at ten medical and eight midwifery schools in Ethiopia, faculty identified barriers: lack of protected time, dedicated funding, knowledge, and skills, as well as an unfavorable institutional culture to conduct research. As part of its core objectives, the Center for International Reproductive Health Training (CIRHT) at the University of Michigan (U-M) partnered with these 18 schools at 10 Universities to build research capacity of Ob-Gyn and midwifery faculty. CIRHT provided optimal research skills and resources using a systematic, phased approach. aimed at preparing faculty to be independent academic clinical investigators through completion of mentored research projects.
Structure/Method/Design
A series of inspirational talks by established Ob-Gyn investigators were presented at each school to re-invigorate and demystify research and share practical tips. A Request for Proposal on RH topics, focusing on contraception and abortion was announced, encouraging multi-disciplinary research teams. Context-based research methodology workshops using local and international trainers were provided at different milestones of the research continuum: framing a research question, proposal writing, research design, data collection and management, data analysis, and manuscript writing and publishing. CIRHT instituted a mentorship program  utilizing U-M faculty as mentors, providing content and methodological expertise to Ethiopian faculty.
Outcome & Evaluation
Ob-Gyn and midwifery faculty initially submitted 185 and 374 research questions, respectively, and presented 39 and 43 research proposals, respectively, nationally to experienced reviewers.  Following a rigorous selection process, CIRHT is funding 52 research projects (26 Ob-Gyn in 2016 and 26 midwifery in late 2017). Twenty-five U-M faculty mentors were successfully matched with research teams. Currently, 72% of Ob-Gyn research teams are analyzing their data, and 22% are drafting manuscripts. Most of the midwifery teams have started data collection.
CIRHT's systematic phased approach has stimulated RH research interest and built research capacity of Ethiopian faculty, while bolstering an authentic partnership with U-M.
Going Forward
All PIs are expected to publish their scholarly work in peer-reviewed journals and continue to engage in scientific investigation, thus sustaining the research culture.
Source of funding 
Supported by an anonymous donor through CIRHT at U-M.
Key Words: Health Systems, Maternal /Child Health, Research