One year after graduation, inaugural OB-Gyn residents are making a difference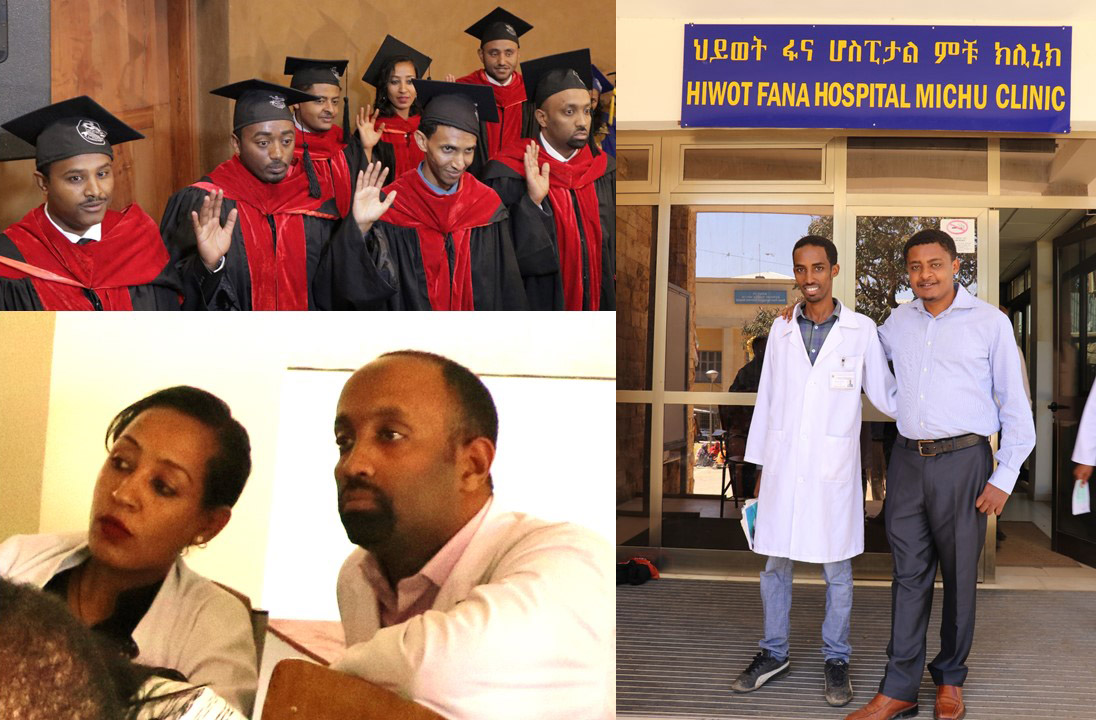 When the first class of OB-Gyn residents graduated from St. Paul's Hospital Millennium Medical College in July 2016, they knew they were trailblazers. With 60 residents in the three years behind them at the college, they would be called upon to teach and mentor as well as practice medicine. And it wasn't just in Addis Ababa that they would have an impact.
In the ancient city of Harar in eastern Ethiopia, residency graduate Dr. Matias Asrat is at Haramaya University and its Hiwot Fana Hospital. Serving a population catchment area of 5.2 million people, the hospital is constantly expanding all of its services. Dr. Matias is a part of that transformation. "We have worked to change teaching methods and practical skills. The number of staff has increased and so the students have more benefits. Because of the improved skill labs, students can have more confidence in their knowledge. And when that happens, the clinical service for the patients gets better."
The imperative medical service includes dealing with difficult births and preventable side-effects, ante-natal services, and provision of family planning methods. It all helps reduce maternal mortality and morbidity.
Beyond those clear clinical benefits, Dr. Matias says that family planning counselling has become much more important. "It is now more understood by staff, residents, midwives and students. With better skills in providing long-acting reversible contraceptives (LARC), including Implanon and IUDs, there is more confidence to offer choices to the mothers. You can increase their understanding. It empowers her to decide for herself what is best. What we have seen is that mothers are increasingly using a variety of family planning methods."
Closer to Addis Ababa, Adama Hospital Medical College is home to two St. Paul's residency graduates – Dr. Hassan Hussein and Dr. Meseret Amsa. Dr Hassan has taken on a range of duties beyond clinical practice and teaching, also coordinating the master's program. Since his arrival just under one year ago, "We have made significant improvement in family planning service and training," he says.
Dr. Meseret, also busy with clinical service and teaching, is happy to be a part of the growing OB-Gyn faculty, which gives the students a better opportunity to learn through patient service. "We have made a difference; we have brought skills, ideas and clinical standards from St. Paul's."
Among the innovations introduced are monthly audits of family planning service and perinatal mortality, and a formal quality improvement system is being put into place. Instruction has also expanded, as interns now all get family planning rotations. Adama has just begun its own residency program as well, with a cohort of three students.
For head of OB-Gyn Dr. Kebede Amana, another aspect of the former residents' arrival is solidifying the network between Adama, St. Paul's and other institutions. "We all care about women who don't have access to family planning health care. The investment, the network and the resource-sharing it has encouraged is having direct results for our patients."