News Review – 25 August 2017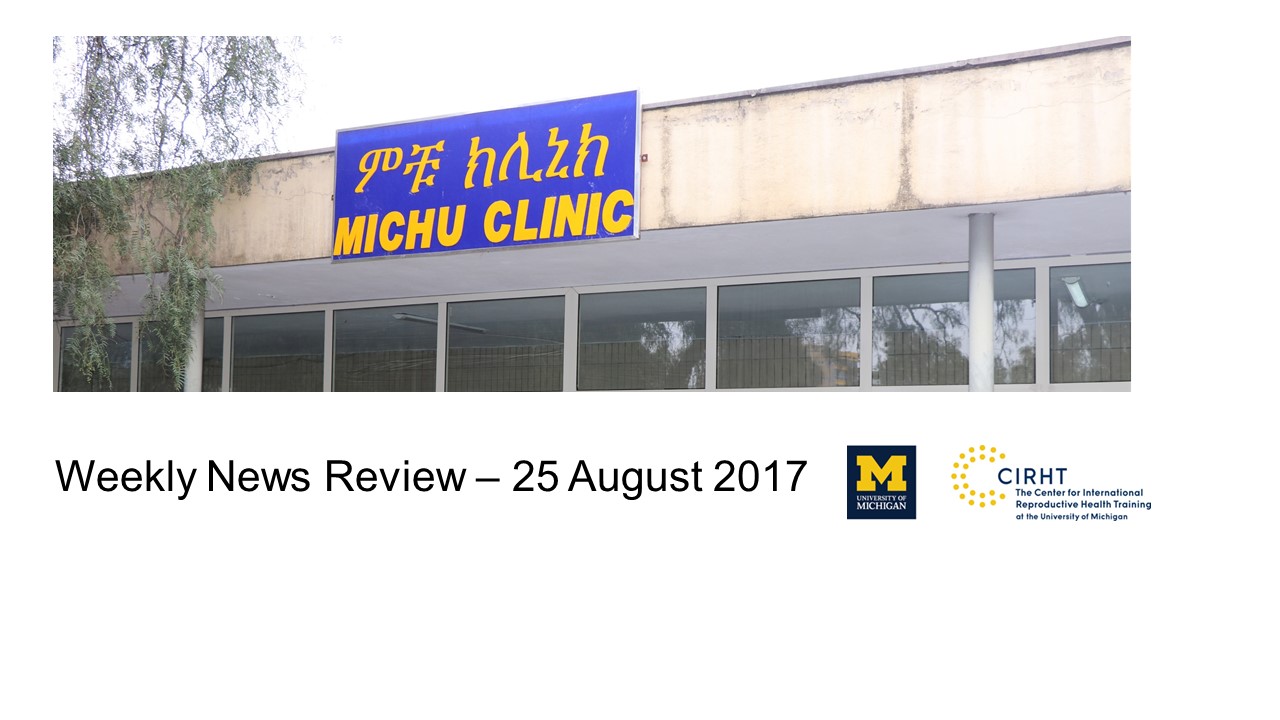 Commodities and Technology
Whatever the political climate, and no matter how good the counselling might be, the availability of family planning commodities – short-term and long-term contraceptives for men and women – is essential for women to be able to take control of their reproductive health.
Getting those supplies "the last mile" can be a challenge across Africa, and is defined as "getting life-saving contraception to a community-based health outlet, and then into the hands of clients." In Tanzania (where "a rise in contraception use reflects hope") the Tuungane Project in the remote and rural villages around Lake Tanganyika in Western Tanzania, was designed to overcome a variety of challenges through an integrated approach, addressing environmental and reproductive health issues simultaneously. FP Voices has a vignette this week from Malawi about Siti Kachingwe, Nurse-Midwife and Project Manager of Engender Health's Last Mile project there.
Ghana, where "contraception use is low in the Upper East Region," is being urged to create "incentives" for the use of family planning methods. The availability of the Sayana Press in Uganda "offers hope." In Madagascar, with funding from the United States Agency for International Development (USAID), the Jhpiego-led Maternal and Child Survival Program (MCSP) is working with the Ministry of Health to expand access to long-acting family planning services, including implants and IUDs.
All of these efforts exist with a menace in the background. Devex reports that the Global Health Supply Chain – Procurement and Supply Management project, a $9.5 billion effort described as a 'cornerstone' of U.S. efforts to end [among others] maternal and child death, is reporting results that could put access to lifesaving health commodities at risk."
What happens when the marketplace is not regulated comes in a story from the Philippines about a women-led crime ring selling "abortion elixirs."
Physical waiting centers for maternal health in Namibia are being funded by the EU and the WHO. Those centers, like reproductive health clinics, are only useful if they are accessed, and in Nigeria young people are being told not to be ashamed to use them.
Sometimes denying access to the commodities is repressive, as in stories from Zambia, where a study shows that men control women's use of HIV-prevention gel, or Uganda where a local councilor "beat up his wife" when he discovered missing condoms.
Technology innovation can help people gain access.
Romper reports on 5 Contraceptives Scientists Are Developing Right Now: "New technologies are cropping up in the field of contraception, including hormone-releasing microchips, revamped condom designs, and low-cost, long-lasting male birth control injections… The good news is that increasing choice for all women appears to be at the center of many of those innovations."
VOA has the story of a group of Kenyan girls who call themselves "The Restorers," who are "taking on Female Genital Mutilation (FGM) with an app, called i-Cut, which connects girls at risk of FGM with rescue agents and offers support for those who have already been cut. It also provides information for anyone seeking to learn more about the practice." In Rwanda, an app called "Tatine" ("Auntie"), "allows adolescents and the general public can ask any question related to sexual health and get an answer including questions that society considers taboo."
While IUDs are widely used and proven to be safe and effective, one woman chose to tell the "nitty gritty details" of having one.
An article in Vox says that the development of the artificial womb "could completely change the debate over abortion: If a fetus can be transferred to a fabricated womb, can the right to abortion survive?"
How does $ affect access?
Even if the commodities and technology are available, what are the financial barriers for women to gain access? One problem affecting the low number of OB-Gyns in South Africa is medical litigation, which is "pushing the country's scarce gynecologists out of work and threatening to bankrupt the national health system." A system of mediation is being suggested as a solution. (In the UK, in response to a similar concern about litigation, a "Rapid Resolution and Redress (RRR)" scheme has been proposed by the health secretary.)
In Kenya, a maternity fee waiver was implemented in 2013 to remove out-of-pocket fees for skilled delivery in public health facilities across the country. This would enable thousands of pregnant women delivering at home to access proper services. "The effect of the new policy was immediate. There was a 22% increase in skilled deliveries in facilities between 2013 and 2015." Nigeria has mandated free treatment for women with fistula.
Elsewhere, Guardian Australia looks at how prohibitive expenses interact with legal restrictions to limit access, while the deputy Labor leader points out that, "The legal right to access a termination isn't much use to a homeless teenager when the upfront cost of an abortion is more than $500." In the US, a study shows that lack of abortion clinic access in rural areas is causing both medical and financial hardship, and ultimately costing the health system more. That is one aspect of what The Wall Street Journal calls "Rural America's Childbirth Crisis"
The British government is no longer covering the costs of abortion services in Northern Ireland, causing Marie Stopes to have to charge patients for them. The US Department of Health and Human Services is facing a legal battle over its proposal to cut free contraception coverage. In the Indian state of Odisha, the government is offering free injectable contraceptives.
International abortion environment
In Uganda, health advocates have resurrected the safe abortion fight (while another article notes the country "loses sh25b in post-abortion care").
Chile's relaxation of its abortion law has fostered hope that it could set an example for the rest of Latin America, and that may be the case in El Salvador, where two bills have been introduced that would accomplish just that, against a very difficult political environment. Action for legal access to abortion is also taking place in Ireland and in the UK in Northern Ireland and the Isle of Man. Activists in Indonesia are decrying a delay in enacting that country's abortion law, saying it denies sexual abuse victims' rights. Toronto politicians are pushing for "a ban on graphic anti-abortion signs."
Anti-choice activists in Poland and Ohio are pressing for laws that deny abortion access if a fetus shows signs of birth defects, while choice advocates press the argument that aborting for Down Syndrome is "not a precursor to eugenics: "When a woman makes a decision to end a pregnancy for any reason, it's her business and her business alone."
On the crime blotter, authorities in Malta have issued an international arrest warrant for a man who "forced a woman to have an abortion" (an Irish man is accused of the same crime); two women in Hong Kong were jailed for performing illegal abortions in an apartment complex.
And a Finnish fashion designer has created maternity wear for 12-year-olds to highlight worldwide child pregnancy.
Initiatives and Midwifery
The end of the week saw the Acting on the Call Summit in Addis Ababa (See USAID's Acting on the Call Report 2017), where health ministers, international organizations, NGOs, Faith-Based Organizations, and other actors from 24 countries committed to innovative strategies towards ending preventable child and maternal deaths.
A heartening story from News Deeply about African Communities Working Together to End Female Genital Cutting.
Advance Family Planning will be expanding its advocacy work with PATH. PATH has also been nominated for "Saving Lives at Birth" grants to accelerate diagnostic and device innovations that prevent maternal and infant deaths at birth. Americares has made a new family planning commitment.
The increasing importance of midwives was discussed in articles about French-speaking Africa, Malawi, and Rwanda.
Family planning access, counselling and service need to be targeted in specific circumstances, including the visually impaired community, those suffering from hunger or traumatized by war, women who have previously had miscarriages and trans and non-binary parents. And when family planning is integrated into greater health initiatives, it can affect preventing non-communicable diseases and improving nutrition.
Newly-released toolkits and guides: Public Health Solutions has two, Improving Contraceptive Care in Primary Care Settings: A Toolkit for Practitioners and Reproductive and Sexual Health; The FP INFOcus Guide from H3C; the USAID/CMSP Providing Long-Acting Reversible Contraception (LARC) Learning Resource Package.
The US context this week
The Trump administration is "needlessly" slashing pregnancy prevention education programs, which have been shown to be effective, and is adding money for abstinence-only education, which has been proven to be ineffective.
Republicans are labelled as "dismissive of women's health needs" and "waging a war against birth control." Pro-choice Republicans and ant-choice Democrats find themselves isolated. In Texas, where a new law would force women to purchase "rape insurance" should they ever need an emergency abortion, part of the anti-choice campaign's tactics to make abortion seem dangerous, one of the leading agencies the state delineated as a substitute for Planned Parenthood has performed so badly that it lost its $7 million contract.  Tennessee prisoners say they were coerced into taking birth control by being "offered 30 days off their sentences in exchange for a vasectomy or a long-acting birth control implant." More news, mostly restrictive, from other states including Ohio, Pennsylvania, Virginia, and South Carolina, though Oregon is proceeding with greater access and education. All of this leading to a plea to stop "micromanaging" contraception access in the US.
The memory of consequences for women's health in pre-Roe v. Wade America is being kept alive as several media projects about the "Jane Project" are in production. On the 30th anniversary of the release of the movie Dirty Dancing, the screenwriter says the ground-breaking depiction of a back-alley abortion almost didn't make it to the screen, but survived because she had written it into the fabric of the whole movie and not made it an expendable add-on.
University of Michigan on Global Health Ethics
Colleagues, mentors and inspirations from the University of Michigan, Dr. Timothy Johnson, Dr. Frank Anderson and Raymond De Vries published an article in Best Practice & Research Clinical Obstetrics & Gynaecology concerning Global Health Ethics: The Case of Maternal and Neonatal Survival, which states, among other aspects:
Maternal/neonatal mortality, highly disparate health indicators represent ethical dilemmas highlighted by the Sustainable Development Goals.
Applying global health ethics requires new ethical considerations – trust, mutual respect, transparency, capacity building among others.
Interventions must include capacity building in modern, comprehensive Obstetrics and Gynecology and supporting policies and institutions.
Complete News Review References: 
General/Global
Documents reveal largest USAID health project in trouble, Devex, 25 Aug 2017
Toronto politicians push for ban on graphic anti-abortion signs
Governor's order says funds won't go to abortion providers, ABC News, 25 Aug 2017
Acting on the Call Summit 2017, AOTC, 24-25 Aug 2017
Many U.S. Abortion Patients Seek Abortion Care More Than Once in a Lifetime, Guttmacher, 24 Aug 2017
Improving Contraceptive Care in Primary Care Settings: A Toolkit for Practitioners, Public Health Solutions, 24 Aug 2017
Our Government Is Waging a War Against Birth Control, Targeting Teenage Girls, AlertNet, 24 Aug 2017
Report: Black People Back Comprehensive Reproductive Health Care, Rewire, 24 Aug 2017
School board narrowly rejects reproductive education center, WFMZ, 24 Aug 2017
Reproductive and Sexual Health, Public Health Solutions, 24 Aug 2017
African Communities Work Together to End Female Genital Cutting, News Deeply, 23 Aug 2017
Artificial wombs are coming. They could completely change the debate over abortion. Vox, 23 Aug 2017
What Precautions Do I Need To Take During Pregnancy If I Had A Miscarriage Before? Experts Weigh In, Romper, 23 Aug 2017
The Problem With Shutting Down Abortion Clinics In Rural And Low-Income Areas,  Huffington Post, 23 Aug 2017
Abortion under 45 hearkens back to the Jane era, Bitch Media, 23 Aug 2017
Oregon, Texas Lay Down Markers On Abortion Coverage, NPR, 23 Aug 2017
Legal challenge to abortion regulations can proceed, We are WV Proud, 23 Aug 2017
Inside the Philippines' women-run crime ring selling abortion elixirs, Radio IQ, 23 Aug 2017
Shattering Taboos in Guyana: A Q&A with Patricee Douglas, Global Health Now, 23 Aug 2017
Rural America's childbirth crisis, The Wall Street Journal, 23 Aug 2017
Why did the Trump administration pull the plug on programs to prevent teen pregnancy?, STAT news, 23 Aug 2017
Delayed abortion regulation denies sexual abuse victims' rights: Critics, Jakarta Post, 22 Aug 2017
Bill would make abortion of fetus with Down Syndrome illegal, News5 Cleveland, 22 Aug 2017
El Salvador: In spite of anti-abortion opposition, two abortion law reform bills under consideration, International Campaign for Women's Right to Safe Abortion, 22 Aug 2017
Texas Law Part of Anti-Choice Strategy to Pretend Abortion Care Is Dangerous, Rewire, 22 Aug 2017
Odisha government launches free injectable contraceptives programme, Indian Today, 22 Aug 2017
Activists hope lifting Chile's abortion ban sets example through Latin America, Reuters, 22 Aug 2017
If Northern Irish women can now have an abortion in England, why not here?, The Guardian, 22 Aug 2017
Could Gossip Be Causing Teen Pregnancy?, Glamour, 21 Aug 2017
I Almost Died During Childbirth. I'm Not Alone., Cosmopolitan, 21 Aug 2017
Texas slashes underperforming anti-abortion group's contract, Washington Post, 21 Aug 2017
How much do abortions cost across Australia?, The Guardian, 21 Aug 2017
AFP expands advocacy initiative to include PATH, AFP, 21 Aug 2017
Abstinence-only education doesn't work. We're still funding it., Washington Post, 21 Aug 2017 (See full study in "Academic" below)
Ending a Pregnancy Because of Down Syndrome Is Not a Precursor to Eugenics, The Cut, 21 Aug 2017
The Back-Alley Abortion That Almost Didn't Make it into 'Dirty Dancing', Broadly, 21 Aug 2017
Chile court ruling ends abortion ban; new law allows in limited cases, Reuters, 21 Aug 2017
Two women jailed over illegal abortions carried out in Hong Kong public housing flat, SCMP, 21 Aug 2017
Crisis pregnancy counsellor told Irish student abortion would lead to years in jail, The Times, 21 Aug 2017
This Is Why Having Less Money Limits Your Reproductive Choices, BuzzFeed, 21 Aug 2017
Justin Trudeau urges Taoiseach to liberalise Irish abortion laws, Irish Examiner, 21 Aug 2017
Women reveal abortion stories in CALM video, Energy FM, 21 Aug 2017
Legal Battle Brewing As Trump's HHS Prepares To Ax Free Birth Control Rule, Talking Points Memo, 21 Aug 2017
Malta issuing International Arrest Warrant for man involved in forced abortion, The Independent (Malta), 20 Aug 2017
Pro-life Democrat: Abortion issue may cost seats in 2018, Washington Times, 20 Aug 2017
Finnish fashion designer creates maternity wear for 12-year-olds to highlight worldwide child pregnancy, Social Good Moms, 20 Aug 2017
Knute Buehler: Distorted abortion attack reveals a need for change in politics (Guest opinion), Oregon Live, 20 Aug 2017
Trump's needless cuts put pregnancy prevention program at risk, Las Vegas Sun, 20 Aug 2017
I Got An IUD And Here Are The Nitty-Gritty Details You Should Know…, Huffington Post, 20 Aug 2017
Polish pro-life activists in push to ban 'eugenic' abortion, The News, 20 Aug 2017
Republicans dismissive of women's health needs, Fosters, 20 Aug 2017
It's time for the feds to stop micromanaging birth control in the US, The Hill, 20 Aug 2017
Belfast branch of Marie Stopes to start charging for abortion care again, Belfast Telegraph, 19 Aug 2017
Husband forced woman to have abortion, Irish Examiner, 19 Aug 2017
PATH nominated for Saving Lives at Birth grants to accelerate diagnostic and device innovations that prevent maternal and infant deaths at birth, PATH, 18 Aug 2017
Dispelling five myths about sexual violence in emergencies, UN OCHA/Medium.com, 18 Aug 2017
Toledo abortion clinic asks Supreme Court justice to remove herself from case, Toledo Blade, 18 Aug 2017
'We were guinea pigs': Jailed inmates agreed to birth control, BBC, 18 Aug 2017
A New Sexual Health Program for Visually Impaired Community, Huffington Post, 17 Aug 2017
First-ever federal charges of female genital mutilation seen as landmark, PBS, 14 Aug 2017
Acting on the Call Report 2017, USAID, 11 Aug 2017
Insult to injury: how Trump's 'global gag' will hit women traumatised by war, The Guardian, 1 Aug 2017
5 Contraceptives Scientists Are Developing Right Now, & These Upgrades Are Way Overdue, Romper, 1 Aug 2017
Americares Makes Family Planning Commitment, Americares, 21 Jul 2017
The Midwives Who Help Trans & Non-Binary Parents Give Birth, Kveller, 7 Jul 2017
Academic
What Is the Most Effective, Low-Cost Method for Inducing Labor in Women With Pre-Eclampsia?, MHTF, 23 Aug 2017
MHRA alert about Nexplanon migration, Journal of Family Planning and Reproductive Health Care, 23 Aug 2017
Abstinence-Only-Until-Marriage: An Updated Review of U.S. Policies and Programs and Their Impact, Journal of Adolescent Health, 22 Aug 2017
Maternal and child health services and an integrated, life-cycle approach to the prevention of non-communicable diseases, BMJ Global Health, 19 Aug 2017
Aspirin versus Placebo in Pregnancies at High Risk for Preterm Preeclampsia, NEJM, 17 Aug 2017
Association of Previous Cesarean Delivery With Surgical Complications After a Hysterectomy Later in Life, JAMA Surgery, 9 Aug 2017
Comparative Safety of Antiretroviral Treatment Regimens in Pregnancy, JAMA Pediatrics, 7 Aug 2017
Should I stay or should I go? Consistency and switching of delivery locations among new mothers in 39 Sub-Saharan African and South/Southeast Asian countries, Health Policy and Planning, 4 Aug 2017
Global Health Ethics: The Case of Maternal and Neonatal Survival, Best Practice & Research Clinical Obstetrics & Gynaecology, August 2017
The FP INFOcus Guide, H3C, August 2017
UK Secretary of State for Health proposes new model for compensating the victims of adverse outcomes resulting from medical/midwifery errors during childbirth, BJOG, 20 Jul 2017
Three recommendations to the new Director-General of the WHO on how to deliver for girls and women, Reproductive Health, 14 Jul 2017
Listening and Leading to Build Midwifery in French-speaking Africa, Girls Globe, 21 Jun 2017
Providing Long-Acting Reversible Contraception (LARC) Learning Resource Package, USAID/CMSP, May 2017 (re-issued 22 Aug 2017)
Ghana
Population growth can create economic imbalances – Dr Eleeza, Business Ghana, 24 Aug 2017
Upper East Region has low contraceptive use, Graphic Online, 24 Aug 2017
Introduce your kids to sex education – Minister urges parents, CitiFM, 23 Aug 2017
Family planning still relevant for Ghana's development- Health Professional, Ghana News Agency, 23 Aug 2017
3-Child policy needs more investment, Ghana News Agency, 22 Aug 2017
Queenmothers should champion family planning education – Prof. Akosa, CitiFM, 21 Aug 2017
Aim for fertility rate of two – Alex Banful to Gov't, GhanaWeb, 21 Aug 2017
Use incentives to encourage family planning – Population Council to gov't, CitiFM, 21 Aug 2017
Kenya
Kenya maternity fee waiver is great – but there are still gaps in the policy, The Conversation, 22 Aug 2017
Kenyan Girls Use Technology to Combat Genital Cutting, VOA, 20 Aug 2017
Squatter names triplets Mandago, Shollei and an MP-elect after failing to vote, The Star, 20 Aug 2017
Trial of labour or elective repeat caesarean delivery: Are women making an informed decision at Kenyatta national hospital?, BMC Pregnancy and Childbirth, 15 Aug 2017
Madagascar
In Her Arms: A Newborn and a New Implant, Jhpiego, 12 Aug 2017
Malawi
Midwives Lead Before and After Birth, Johnson & Johnson, 23 Aug 2017
How best can we make sure that family planning commodities are available at the last mile?, FP Voices, 21 Aug 2017
Chiefs in Malawi urged to be reproductive health champions, CSJ News, 17 Aug 2017
Namibia
EU extends funding for maternity waiting home, The Namibian, 23 Aug 2017
WHO Funds Opuwo Maternity Waiting Room, The Namibian, 22 Aug 2017
Nigeria
'Malaria in Pregnancy Causes Miscarriage, Premature Births, Maternal Deaths, Others', This Day, 24 Aug 2017
Watch Battabox's Vox Pop on Family Planning in Nigeria, Bella Naija, 24 Aug 2017
Opinion: population explosion – can family planning save Nigeria?, Ynaija, 23 Aug 2017
Family planning gains prominence among couples in Lagos, Vanguard, 22 Aug 2017
Nigeria mandates free treatment for women with fistula, Daily Trust, 22 Aug 2017
Don't Be Ashamed to Access Reproductive Health Facilities, Youths Advised, The Street Journal, 21 Aug 2107
Controlling Over-population In Nigeria, Leadership, 18 Aug 2017
Rwanda
Rwanda to Host Global Conference On Family Planning, KT Press, 24 Aug 2017
'Tantine App' Could Reduce Reproductive Health Challenges, KT Press, 23 Aug 2017
A Rwandan Midwife Mentor Delivers Emergency Care with Cool Confidence, Jhpiego, 23 Aug 2017
Somalia
Family planning starts with men, Omny FM, 23 Aug 2017
South Africa
Mediation could ease SA's medico-legal woes but it's no quick fix, Bhekisisa, 23 Aug 2017
How hunger affects the mental health of pregnant mothers, The Conversation, 20 Aug 2017
Tanzania
Engaging youth in making right choices, The Citizen, 21 Aug 2017
Rise in use of contraception reflects hope, The Citizen, 21 Aug 2017
Case Study: Tuungane Project in Tanzania: Reaching Clients at the Last Mile, Reproductive Health Supplies Coalition/Pathfinder/K4Health, 21 Aug 2017
Govt to allocate 17bn/- for family planning access by 2020, IPP Media, 19 Aug 2017
Better Together: Revitalizing Family Planning & Nutrition Services, MCSP, 28 Jul 2017
Uganda
Uganda loses sh25b in post-abortion care – Opendi, New Vision, 24 Aug 2017
New injectable birth control offers hope, The East African, 23 Aug 2017
Health advocates resurrect safe abortion fight, The Observer, 23 Aug 2017
She was pregnant almost every year. She needed a choice — and the power to protect her island, Pathfinder International, 23 Aug 2017
LC chairperson beats up wife over missing condoms, KFM, 21 Aug 2017
Pelvic exam: Do you know the limits of your physician?, Daily Monitor, 20 Aug 2017
Separating morality from service, Daily Star, 18 Aug 2017
Zambia
Study Shows Men in Zambia Control Women's Use of HIV-Prevention Gel, NewsDeeply, 21 Aug 2017