News Review – 29 September 2017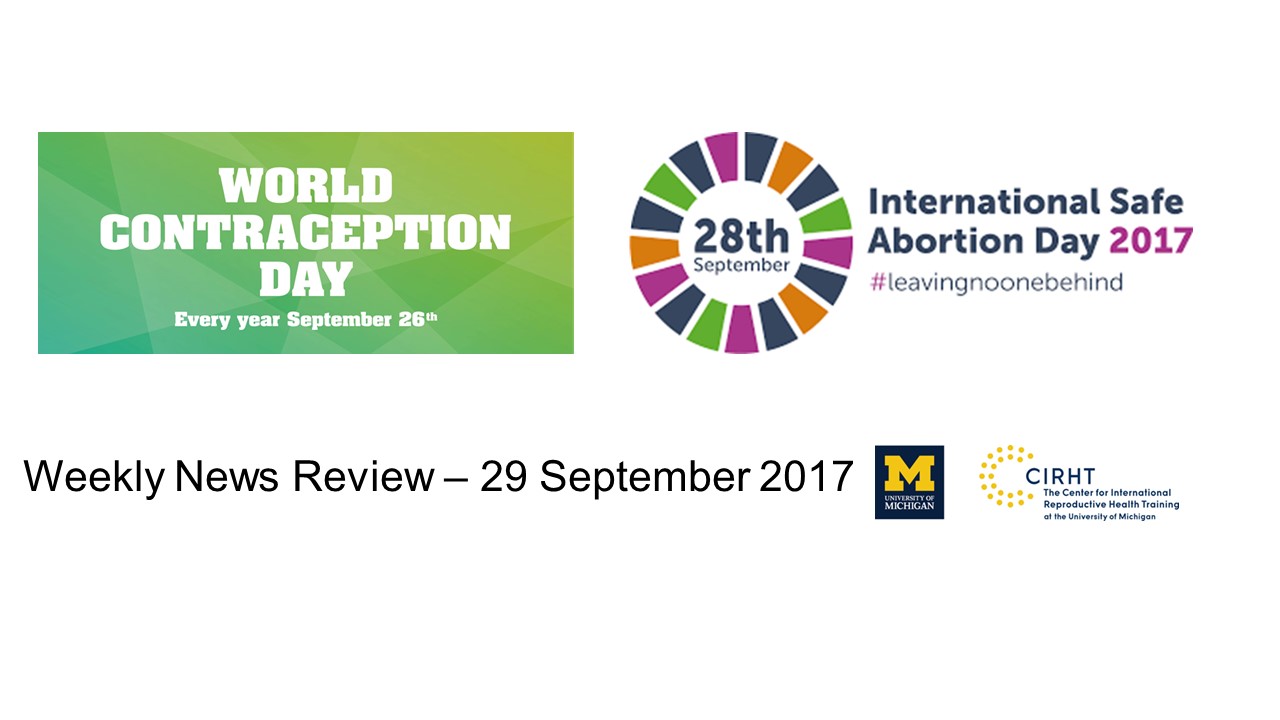 A week of days… Contraception
World Contraception Day gave a spotlight to efforts around the world to increase access, investment and understanding. The essential point: 214 million women have an unmet need for modern contraception.
Contraception access is a health issue, a human rights issue, a women's empowerment issue and an economic issue.
The need for more access was clear in articles from Uganda, where "only three in ten currently married women are using modern method of family planning," DRC, where services are desperately low, with a "high potential for improvement," and Kenya, where "one in four married women of reproductive age reported having an unmet need for family planning," and "43 per cent of pregnancies are unplanned."
The health benefits are clear: access will reduce maternal mortality in Nigeria, allow for healthy timing of and spacing of pregnancies (HTSP), and prevent 70% of maternal deaths and 44% of newborn deaths. Some indicators are positive. In Burundi the number of people using contraceptives in increasing. Initiatives in Senegal, Nigeria and Benin.
Outreach to children and adolescents is the focus of campaigns in Burkina Faso, Kenya, Nigeria, and Uganda, including a teaching through animation and art in Tanzania, a digital marketplace in Kenya, a new website in Lesotho and the marketing of the "Icon Gold" condom in Zimbabwe. Young mothers and child brides are among the most vulnerable, and most important, constituencies.
Some inspiring first-person stories from Family Planning Voices, the Universal Access Project and DKT in about the life-changing effects contraceptives can have. Jhpiego "celebrates the midwives, nurses, physicians and community health workers who are delivering FP services across West Africa with respect and care in service of all."
Achieving increased access requires investment: This week, a €10 million investment in Togo,  sh182 billion announced in Uganda, and $10.5 million "for three years from the Bill & Melinda Gates Foundation and Children's Investment Fund Foundation to empower women and adolescent girls with expanded contraceptive options." And that investment is worthwhile in economic terms as well. A Sierra Leone paper calls investment in family planning a "smart investment". In Tanzania, where adolescent fertility is much higher than global rates, and "the Tanzania Adolescents and Reproductive Health (TAYARH) said beefing up the funding for sexual and reproductive health (SRH) is the cheapest way to achieve Tanzania's middle income status aspirations by the year 2025."
Part of that investment is in distribution of family planning materials. An interesting study by Shops Plus looks at the "regulation of drug shops and pharmacies relevant to family planning" in 32 developing countries and concludes that a new regulatory framework is needed, but that "future research is needed to explore the link between regulatory frameworks and contraceptive prevalence rates." The Pace Project shows that "use of modern contraceptives increases as more methods are made available." Gambia's community-based distributors include local police stations to reach vulnerable population. Zimbabwe distributes some 100 million condoms every year. And a Namibian official admitted that they "sneak condoms into prisons."
Yet stigma and misunderstanding remain barriers to expanded usage. "Myths" are hindering usage in Ghana, "religious and cultural beliefs" in Nigeria.
K4Health gave a reminder of its favorite family planning resources.
And a challenge from Open IDEO, looking for input: How might we radically improve access to, and quality of, sexual and reproductive health education and services for young people?
A week of days… Abortion
International Safe Abortion Day ("Global Day of Action for Access to Safe and Legal Abortion") created its own spotlight, "advocating for the decriminalization of abortion, reducing the negative stigma surrounding abortions, and ensuring equal access to safe abortions for all individuals." The essential point: An estimated 25 million unsafe abortions occur each year – nearly half of all abortions globally – leading to 7 million health complications and 47,000 deaths. The WHO adds, "in countries where abortion is completely banned or allowed only to save the women's life or her physical health, only 1 in 4 abortions were safe."
On the global stage, UN special rapporteurs in the areas of health, law, discrimination, human rights and extrajudicial killings, urged "all States to end the criminalization of abortion and to ensure that all women are able to access all necessary health services, including sexual and reproductive health care, in a manner that is safe, affordable and consistent with their human rights." Another joint statement signed by some 285 organizations from around the world, urges "the [UN] Human Rights Council to address the human rights violations arising from criminalization of abortion and the denial of access to safe and legal abortion services." IPPF states it plainly: Make abortion safe. Make abortion legal."
Regionally, calls for an end to stigma in Africa, legal liberalization in Brazil ("hundreds of thousands of women and girls risk their health and lives"), Burundi ("rising numbers of illegal abortion"), Egypt ("among the most restrictive laws worldwide), Malawi ("Why retain a law the kills women?"), and Nicaragua ("making victims into criminals"). Dame Billie Miller notes that after she helped legalize abortion in her native Barbados, the maternal mortality ratio plummeted by 53%, and asks, "Why do politicians still force women through unwanted pregnancies? Ireland announced it will hold a referendum on Article 8 of its constitution in the spring. Nova Scotia became the latest Canadian territory to make the abortion pill available for free at pharmacies. In the 21 years since South Africa guaranteed the legal right to abortion, abortion-related deaths and injuries are estimated to have reduced by over 90%; nevertheless, access remains limited, because of "conscientious objection" and a lack of public information.
In the political fight in the US, where teen pregnancies have plummeted 51% over the past decade, Congress may consider a 20-week ban. A watchdog in Arizona notes the millions of wasted taxpayer dollars spent defending indefensible abortion restrictions; Illinois increased access and affordability; an Indiana judge permanently struck down provisions of a law "that would have banned abortions sought due to fetal genetic abnormalities and required that aborted fetuses be buried or cremated;" Arkansas restricted access to the abortion pill. The Campaign for Accountability is calling for an investigation of fraud by the Texas anti-abortion "Heidi Group". One opinion writer posited that he was "pro-choice, but anti-abortion."
Another grim reminder of how women have suffered through the use of unsafe abortion methods over the past several thousand years, including herbs, "massages" (more like pounding on the belly), and bears' feet.
Complete News Review References: 
General/Global
Challenge: How might we radically improve access to, and quality of, sexual and reproductive health education and services for young people?, Open IDEO, 1 Oct 2017
Commemorating International Safe Abortion Day, Feminist Newswire, 29 Sep 2017
UN Special Rapporteurs Call for Strong Action on International Safe Abortion Day, IWHC, 28 Sep 2017
Illinois Just Expanded Government-Funded Abortion Access, Ms. Magazine, 28 Sep 2017
How Hugh Hefner Used a Sexist Magazine to Champion Women's Reproductive Rights, Fortune, 28 Sep 2017
Why do politicians still force women through unwanted pregnancies?, The Guardian, 28 Sep 2017
Women and girls continue to be at risk of unsafe abortion, WHO, 28 Sep 2017
Africa: It's Time to End the Stigma and Silence Around Abortion, AllAfrica.com, 28 Sep 2017
The Struggle to Provide Culturally-Appropriate Maternity Care, MHTF, 28 Sep 2017
Appeals court won't reconsider Arkansas abortion pill ruling, AP, 28 Sep 2017
Why Brazil Should Decriminalize Abortion, HRW, 28 Sep 2017
Nicaragua's Abortion Ban Makes Victims the Criminals, Huffington Post, 28 Sep 2017
Worldwide, an Estimated 25 Million Unsafe Abortions Occur Each Year, WHO/Guttmacher, 27 Sep 2017
Make abortion safe. Make abortion legal., IPPF, 27 Sep 2017
Safe abortions for all women who need them – not just the rich, say UN experts, UN OHCHR, 27 Sep 2017
Women's Access to Sexual and Reproductive Health: U.S. vs. Latin America, We.news, 27 Sep 2017
Why Women's Voices Matter Most When We Talk About Family Planning, NewsDeeply, 27 Sep 2017
Teen births have plummeted 51 percent over the past decade, Vox, 27 Sep 2017
The Pace Project: Expanding Contraceptive Method Choice for Successful Family Planning Programs, FP2020/PRB, 26 Sep 2017
Dr Jakaya Mrisho Kikwete: Invest in Midwives to Improve Global Health, It's Possible, Hope through Healing Hands, 26 Sep 2017
Rep. Ami Bera and the American Congress of Obstetricians and Gynecologists (ACOG) denounce attacks on women's health on World Contraception Day, Re. Ami Bera, 26 Sep 2017
New state law seeks to reduce the number of child brides in Texas, Big Country, 26 Sep 2017
Trump strips $600m from family planning in proposed 2018 budget, ABC Australia, 26 Sep 2017
House to vote on 20-week abortion ban, The Hill, 26 Sep 2017
I'm an environmental journalist, but I never write about overpopulation. Here's why., Vox, 26 Sep 2017
Government Watchdog Calls for State and Federal Investigations into Abortion Foe, the Heidi Group, Campaign for Accountability, 26 Sep 2017
How human rights help ensure high-quality contraceptive services, WHO, 26 Sep 2017
PATH welcomes new grant to expand contraceptive choice and access, PATH, 26 Sep 2017
Work with women not for them, say advocates on World Contraception Day, Devex, 26 Sep 2017
Access to family planning saves lives and empowers women, JSI, 26 Sep 2017
Wait…What?! This is Seriously Surprising., Global Moms Challenge, 26 Sep 2017
Healthy timing and spacing of pregnancies (HTSP), Hope through Healing Hands, 26 Sep 2017
Ireland to hold abortion referendum in 2018, The Independent, 26 Sep 2017
What does access to contraception mean to you?, Baltimore Sun, 26 Sep 2017
World Contraception Day: How Does Family Planning Impact Maternal Health?, MHTF, 26 Sep 2017
Meeting the Family Planning Needs of West Africans, Jhpiego, 26 Sep 2017
Family Planning highlights LARCs, Voxy, 26 Sep 2017
Reproductive Health Care Is Going Extinct In West Virginia, Huffington Post, 26 Sep 2017
In 13 States, Parents Can Force Teen Moms to Give Birth Without an Epidural, Broadly, 26 Sep 2017
Joint Statement on Access to Safe and Legal Abortion Globally, ARC International, 25 Sep 2017
Push to dispel myths about long-lasting contraception, The Guardian, 25 Sep 2017
Contraception Is about Partnerships—in More Ways than One, Huffington Post, 25 Sep 2017
A New Push for the Male "Pill", Scientific American, 25 Sep 2017
Four Women, One Life-Changing Intervention, Huffington Post, 25 Sep 2017
Perez Hilton—And All Men—Should Shut Up About Abortion, Daily Beast, 25 Sep 2017
Cities turn to doulas to give black babies a better chance at survival, Washington Post, 25 Sep 2017
Judge permanently blocks Indiana law on genetic abnormality abortions, CBS News, 25 Sep 2017
Midwives offer lifeline to pregnant Rohingya, Al Jazeera, 25 Sep 2017
Arizona Has Wasted Millions of Dollars Defending Bogus Anti-Abortion Laws, Slate, 25 Sep 2017
New Study Reveals 214 Million Women Have an Unmet Need for Modern Contraception, DKT International, 25 Sep 2017
As HC3 Closes, New Chapter Opens, JHU CCP, 25 Sep 2017
How Technology Can Create Good Jobs While Giving Health Care to the World's Poor, Fortune, 25 Sep 2017
Pro-Choice And Anti-Abortion, And Unconventional Opinion, The Good Men Project, 23 Seep 2017
N.S. government making abortion pill available free at pharmacies, Hamilton Spectator, 22 Sep 2017
Contraception and child brides, CARE, 21 Sep 2017
What Abortion Looked Like 1000 Years Ago, Tonic, 29 Nov 2016
Academic
Exposure to Ionizing Radiation During Pregnancy–What Now?, ObG Project, October 2017
Non-communicable diseases and maternal health, MHTF Quarterly, 27 Sep 2017
A Few of Our Favorite Family Planning Resources, K4Health, 25 Sep 2017
Effects of nutrition interventions during pregnancy on low birth weight: an overview of systematic reviews, BMJ Global Health, 22 Sep 2017
Family Planning in the Context of Latin America's Universal Health Coverage Agenda, Global Health: Science and Practice
Regulation of Drug Shops and Pharmacies Relevant to Family Planning: A Scan of 32 Developing Countries, Shops Plus, July 2017
Benin
She Decides: Alexander De Croo and Benin First Lady meet on women's rights, Belgium Ministry of Foreign Affairs, Foreign Trade and Development Cooperation, 25 Sep 2017
Burkina Faso
Santé sexuelle et reproductive des jeunes: AMMIE ouvre un centre d'orientation et de conseils pour adolescents, Ouaga.com, 27 Sep 2017
Burundi
Local organization pleads for medical abortion in some cases, Iwacu, 28 Sep 2017
Number of Burundians using contraception is increasing, Iwacu, 26 Sep 2017
DRC
Availability and Quality of Family Planning Services in the Democratic Republic of the Congo: High Potential for Improvement, Global Health: Science and Practice, June 2017
Egypt
On the Global Day of Action for Access to Safe Abortion: the Egyptian government should sign the Maputo Protocol and take action to protect the life and health of women, Egypt Initiative for Personal Rights, 28 Sep 2017
International day for Safe Abortion, Egypt Today, 28 Sep 2017
Gambia
UNFPA Visits Family Planning Community Based Distributors In Foni Kassange, JellofNews, 25 Sep 2017
Ghana
Myths About Contraceptives Hindering Usage – GHS, Peace FM, 29 Sep 2017
Celebration of 2017 Family Planning Week launched, Ghana News Agency, 27 Sep 2017
DFID Ghana Health Adviser's speech at the launch of Family Planning week in Accra, DFID, 26 Sep 2017
Guinea
Santé : le secrétaire général du ministère insatisfait des résultats des agents de santé, Aminata, 29 Sep 2017
Kenya
Kenya must address unmet need for family planning, Daily Nation, 28 Sep 2017
Ask youth about sexual health, The Star, 26 Sep 2017
On family issues, let every staff make decision, Business Daily, 26 Sep 2017
Nivi: A Digital Marketplace for Family Planning in Kenya, Population Council, 26 Sep 2017
Lesotho
New website equips youths on sexual health, Lesotho Times, 22 Sep 2017
Rural women bear obstetric fistula's brunt, Lesotho Times, 22 Sep 2017
Malawi
Civil society organizations ask government to pass new abortion law, CSJ, 28 Sep 2017
Time to decriminalize draconian abortion law, CSJ, 28 Sep 2017
Why retain the law that kills women, CSJ, 28 Sep 2017
Namibia
We sneak condoms into prison – Haufiku, The Namibian, 25 Sep 2017
Nigeria
Providing Equitable, High Quality Maternity Care in the Context of a Limited Health Workforce: Lessons From Nigeria, MHTF, 29 Sep 2017
Nigeria Records 80 Million Unplanned Pregnancies Yearly – Group, The Independent (Nigeria), 27 Sep 2017
Family Planning Will Reduce Maternal Mortality – Official, PM News, 27 Sep 2017
Religious, cultural beliefs hindering family planning in Nigeria – Service Provider, Premium Times, 26 Sep 2017
Cholera poses grave risks to pregnant women in conflict-affected Nigeria, UNFPA, 26 Sep 2017
Lawyers urged to be creative in litigating maternal health issues, The Guardian, 26 Sep 2017
Nigerian women are now embracing family planning, Vanguard, 26 Sep 2017
Increased health funding will reduce poverty rate in Nigeria —Melinda Gates, Punch, 25 Sep 2017
New family planning campaign targets teenagers, Daily Trust, 25 Sep 2017
'Before and After', Honey and Banana, 25 Sep 2017
Nigeria records 46 million abortions annually, says NGO, The Guardian, 24 Sep 2017 (Incorrect headline, btw)
With information, education; abortion and other sexual problems'll be reduce – Osowobi, Vanguard, 24 Sep 2017
FG budgets $4million for population control, The Nation, 24 Sep 2017
Reaching the Youngest Mothers to Save Lives, MCSP/USAID, 8 Sep 2017
Changing lives in Nigeria, IPPF, 25 Sep 2016 (ICYMI)
Senegal
It's a boy!, PSI, 26 Sep 2017
Sante sexuelle et reproductive: Vers un cadre de concertation pour le renforcement du positionnement des acteurs, Le Quotidien, 23 Sep 2017
Sierra Leone
Family planning – a smart investment, Awoko, 26 Sep 2017
South Africa
More must be done to realise rights to access safe and legal abortion, Daily Maverick, 28 Sep 2017
Tanzania
Analysts show importance of women's sexual health in economic growth, The Citizen, 27 Sep 2017
Tanzania's adolescent fertility much higher than global rates, The Citizen, 27 Sep 2017
Fresh FGM concerns raised, The Citizen, 25 Sep 2017
Teaching youths sex education through animation and art, Africa News, 22 Sep 2017
Togo
Appui de 10 millions d'euros de la KfW, Republique Togolaise, 26 Sep 2017
Uganda
Government to scale-up family planning services, New Vision, 29 Sep 2017
Youth want more interactive patient-doctor engagement, New Vision, 28 Sep 2017
UK earmarks sh182b for family planning, New Vision, 27 Sep 2017
Why investment in family planning is a must, New Vision, 27 Sep 2017
Youth hold demo ahead of family planning conference, New Vision, 26 Sep 2017
Only three in ten currently married women are using a modern method of family planning – Ruth Aceng, Uganda Media Centre, 21 Sep 2017
Zambia
President Lungu Anti-Early Marriages Campaign is Ill-Informed, Lusaka Times, 23 Sep 2017
Zimbabwe
Tertiary institutions need full condom supply, The Herald, 25 Sep 2017
Icon Gold: New condom for youth, The Herald, 25 Sep 2017