Perception towards Dilatation and Evacuation and Associated Factors among Abortion Service Providers in Ethiopia: A Cross Sectional Study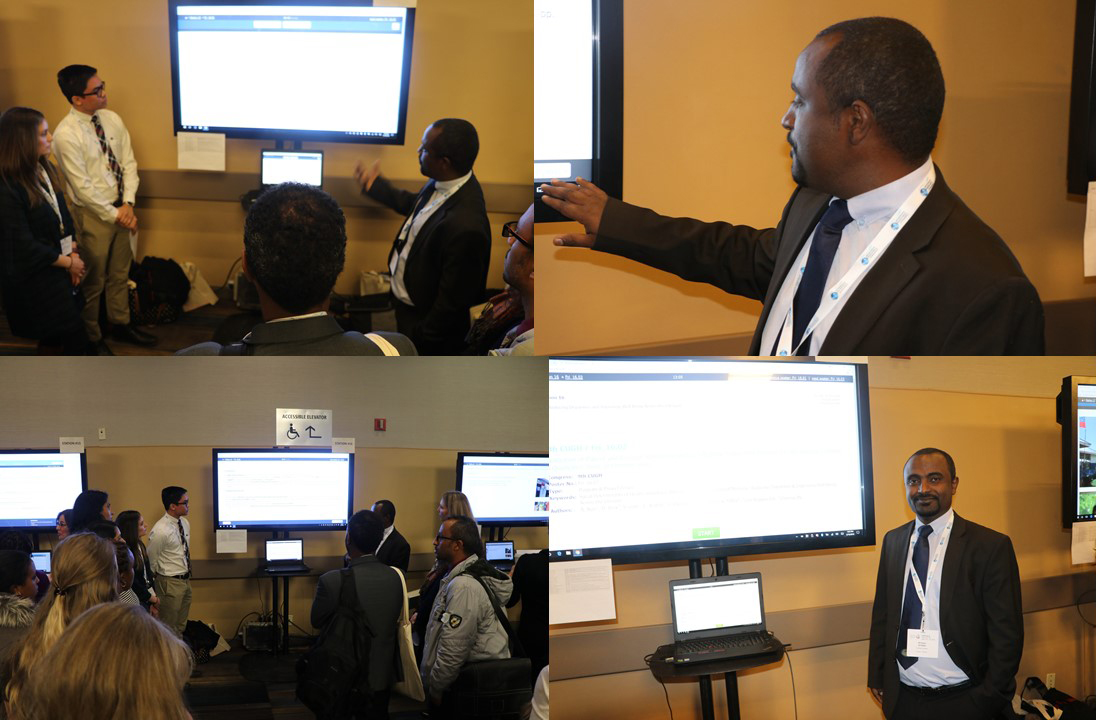 CIRHT supported research: Perception towards Dilatation and Evacuation and Associated Factors among Abortion Service Providers in Ethiopia: A Cross Sectional Study
Authors: B. Ayana1, A. Addis2, A. Gebeyehu2, Y. Getachew2, A. Teklu3, M. Adefris2, M. Abtea4, R. John5; 1Gondar,/ET, 2Gondar/ET, 3Addis Ababa/ET, 4Desie/ET, 5Michigan/US
Keywords: Public Health, Women's Health / Empowerment, Maternal /Child Health, Reducing Disparities & Improving Well-Being Across the
Lifespan
Background
• Globally, over 42 million abortions are performed annually of which 10-15% take place in the second trimester (ST).
• Over half are unsafe and disproportionately contribute to maternal deaths.
• In Ethiopia, since 2005, abortion is legal in certain circumstances and medical abortion (MA) is the commonly practised option for the second
trimester.
• Dilation and Evacuation (D and E) service is not widely available though it is a better alternative in certain clinical situations.
• OBJECTIVE: This study aimed to assess the perception towards D and E in the second trimester and its associated factors among Ob-Gyns n Ethiopia.
Methods
• Facility-based cross-sectional study triangulated with a qualitative study
• Study subjects: gynaecologists/obstetricians in Ethiopia.
• All gynaecologists/obstetricians who were providing clinical service in Ethiopia were included in the quantitative study and for the qualitative
study(in-depth interview) 10 purposively selected experts participated
• A structured self-administered questionnaire was employed to collect the quantitative data.
• The quantitative data were summarized by using appropriate descriptive summary measures. Binary logistic regression analyses were done to
identify factors associated with an unfavourable attitude towards D&E.
• The qualitative data were analyzed using 'open code' software and thematic analysis was employed.
• Good perception towards D&E in second-trimester abortion: those who have a mean perception score above 50
Findings
1. Quantitative Result
1.1 Experience in second-trimester abortion and D&E
Table 1:-Second-trimester abortion management experience and related issuesamong Gynaecologists and Obstetricians in Ethiopia, 2016
Fig. 1

References: Obstetrics and Gynecology, University of Gondar – Gondar/ET
Table 2:-Dilatation and Evacuation experience and related issues among Gynaecologists and Obstetricians in Ethiopia, 2016
Fig. 2

References: Obstetrics and Gynecology, University of Gondar – Gondar/ET
1.2 Perception on D & E
Favourable attitudes towards D & E for ab second-trimester abortion were commonly identified 111 (72,1%, 95% CI: 64.9%, 81%).
Fig. 3
References: Obstetrics and Gynecology, University of Gondar – Gondar/ET
1.3 Factors
Age and workplace were associated with individuals' perception towards D&E in the bivariate analysis.
The odds of unfavourable perception towards D&E was 3 times (AOR=3.17, 95%CI: 1.22, 8.21 and AOR=2.86, 95% CI: 1.08, 7.59) higher in
respondents aged 37-45 and >/=46 years.
Providers working only in the Private facility were 3 times more likely (AOR=2.85, 1.43, 5.66) to have unfavourable perception whereas those
working only in government facility were 63% less likely (AOR=0.37, 95% CI: 0.18, 0.73) to have unfavourable perception towards D&E.
2. Qualitative Result
• Most agree abortion service in Ethiopia has improved significantly to a level not to be a public health concern, since its legalization.
• The experience on D&E is rare (except one site which has appropriate materials and trained individuals for D&E) and is used in desperate
situations where MA fails or thought not to be safe.
• The respondents have varying beliefs on the need for special training on D&E.
• All participants believe that D&E has some role in second-trimester abortion management but vary significantly on the extent of its role.
Interpretation
• Majority of participants have a favourable perception towards D&E and agree that its availability will have a positive contribution but introduction
should be with care.
• Our next steps include developing a culturally appropriate D&E training program, as well as collaborating with experts in the field for appropriate
and necessary equipment procurement.
References
[1] S. S. Dalvie, "Second trimester abortions in India," Reproductive Health Matters, vol. 16, no. 31, pp. 37-45, 2008.
[2] H. Gebreselassie,M. F. Gallo, A.Monyo, andB.R. Johnson, "The magnitude of abortion complications in Kenya," BJOG, vol. 112, no. 9, pp. 1229-1235, 2005.
[3]. Cowett A, Golub R, Grobman W. Cost-effectiveness of dilation and evacuation versus the induction of labor for second-trimester
pregnancy termination. Am J Obstet Gynecol 2006;194:768-73.