A Novel Global Health Anesthesia Collaboration via Blue Jeans Video-Conferencing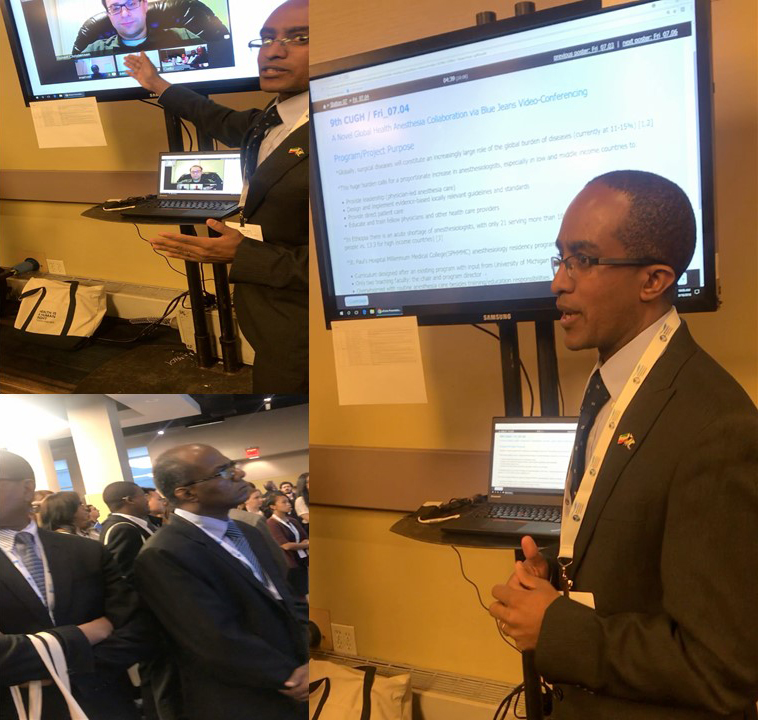 CIRHT partner: A Novel Global Health Anesthesia Collaboration via Blue Jeans Video-Conferencing
Gauger1, B. G. Gebremeskel2, L. T. Gebremedhin3, G. D. Gurmu4, S. Assefa5
1University of Michigan, Anesthesiology, Ann Arbor/US, 2University of Michigan, Ob/Gyn, CIRHT, Ann Arbor/US, 3University of Michigan, Ob/Gyn-CIRHT, Ann Arbor/US, 4St. Paul's Hospital Millennium Medical College, Anesthesiology, Addis Ababa/ET, 5St. Paul's Hospital Millennium Medical College , Anesthesiology, Addis Ababa/ET
Program/Project Purpose
There is a dire need for anesthesiologists in Ethiopia with only 21 anesthesiologists serving a population of 104 million. Innovative training programs, including supplementation with live videoconferencing lectures, could be helpful in solving this shortfall in the trained anesthesia workforce.
Structure/Method/Design
Building upon a successful collaborative platform between the University of Michigan (U-M) and St. Paul's Hospital Millennium Medical College (SPHMMC) in Addis Ababa, the UM anesthesiology department designed weekly live lecture series using BlueJeans videoconferencing to deliver much needed didactics to the residents at SPHMMC. Following each lecture, a Likert-like survey (1 to 5) with 8 questions was sent out to the residents to assess the content and delivery of the lectures. Qualtrics software was used to administer and analyze the surveys. We computed the weighted average of the scores to determine the overall satisfaction for all the lectures.
Outcome & Evaluation
Between January 25, 2017 and May 30, 2017, thirteen U-M faculty delivered 16 interactive live video-conference lectures for SPHMMC residents in Ethiopia and India. The lectures occurred at 6:30 AM EST (1:30/2:30 PM in Ethiopia and 4:30/5:50 PM in India). There were only 2 interruptions throughout the period, with the lectures occurring consistently. The lectures were all auto recorded and delivered to the residents for reviewing the content at a later time. Residents completed 63 post-lecture satisfaction surveys, with an overall satisfaction score of 4.6. Highest rating was given for 'the speaker displayed a thorough knowledge of the topic' (4.8).
Going Forward
Live videoconferencing was found to enhance the learning process in this new anesthesiology residency program with only two local faculty as demonstrated by a high level of satisfaction to the post-lecture survey. We would like to continue this support by including pre-and post test questions and expanding to the other two residency programs in Ethiopia
Key Words: Health Systems, Surgery, Education