Michu and U Mich: Expanding Access and Training in Ethiopia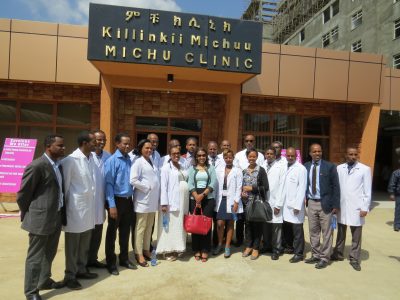 In Addis Ababa, 2016 will be filled with more opportunities for girls, women and families. The CIRHT team was proudly in attendance when on January 6, St. Paul's Hospital Millennium Medical College (SPHMMC) opened the Michu Reproductive Health Clinic to provide patients with family planning and abortion care.
The unit is appropriately named Michu, which in Amharic means "comfortable." The new clinic supports SPHMMC's efforts to meet the region's growing family planning demands and reflects a commitment to improved access to quality care that puts patients first. The visible and convenient location at the front of the St. Paul's Hospital campus provides a full-range of services in one place—including counseling, family planning procedures and safe abortion care.
The medical college leadership and SPHMMC's Obstetrics and Gynecology Department championed development of the clinic. The name Michu was selected by the SPHMMC team not only for its Amharic meaning, but also in recognition of their collaboration with University of Michigan.
Along with the new clinic, SPHMMC launched a Reproductive Health Fellowship Training with a curriculum focused on clinical practice, education and research in family planning and comprehensive abortion care. The expanded access to care and opportunities for training and learning contribute to SPHMMC's position as a Center of Excellence in reproductive health.
Similar clinics are under renovation at other CIRHT partner medical schools and are expected to open in coming months.
Read more about CIRHT's work.