News Review – 27 October 2017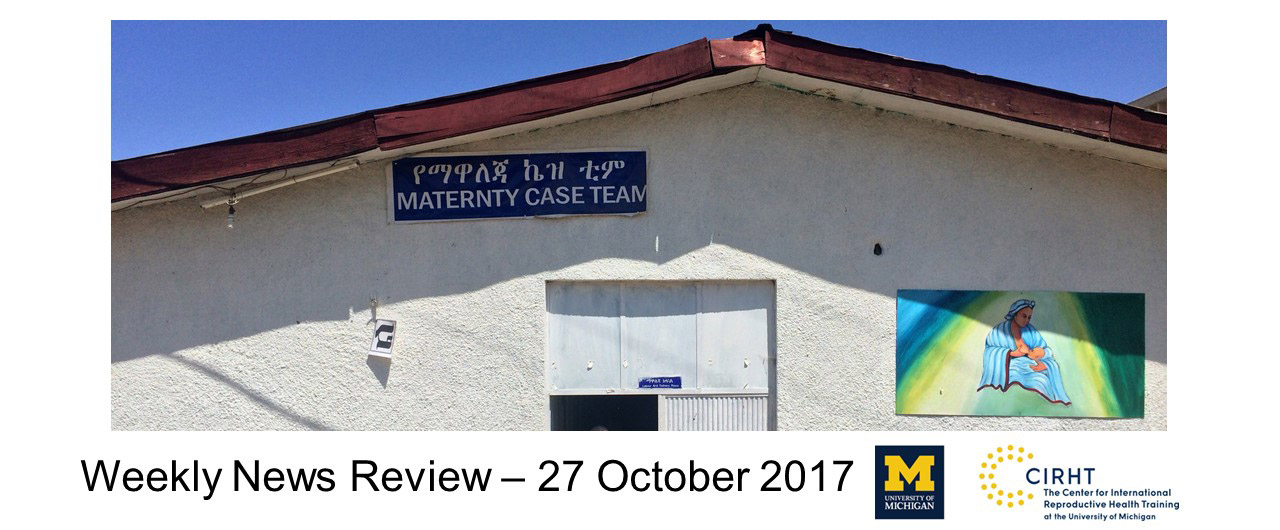 Child Marriage and Reproductive Rights
A high-level meeting to accelerate action against child marriage in West and Central Africa convened in Senegal, to agree on tangible steps toward ending the practice for good. Per UNFPA, child marriage "is a severe violation of human rights affecting almost 15 million girls worldwide each year. It robs girls of their childhood, puts them at risk of physical and sexual violence, often forces them to drop-out of school and frequently leads to early pregnancy."
The World Bank estimates that ending child marriage would boost West and Central African economies: "By 2030, the annual benefit from ending child marriage could reach well above $60 billion; by 2030 governments would also see a benefit of $5 billion annually due to reduced under-five mortality and stunting, both seen as related to early childbearing."
Inspiring stories by Reuters about Kenya's Peris Tobiko who escaped her father's attempts to make her a child bride and became an MP to "defend the girl child"  and profiles of girls from Niger, Guinea and Sierra Leone stepping in to end the practice.
Those contrast with a terrible story from Uganda about "girls forced into child marriage because they can't afford sanitary pads." And according to the 2016 Uganda Demographic and Health Survey (UDHS), "49 per cent of women between age 20 and 24 got married before their 18th birthday. Child marriage is one of the most significant, albeit not exclusive drivers of teenage pregnancy."
Sierra Leone's first lady has "a sure-fire strategy to tackle child marriage – she visits elders across the land and urges them to wield influence and prolong the nation's childhood. 'I'm a hands-on woman,' Sia Nyama Koroma told the Thomson Reuters Foundation. 'I go myself, leave my comfort zone, and travel the length and breadth of Sierra Leone with my team.'" Zimbabwe has drafted a bill barring child marriage. It is also being addressed at training in Namibia against violating girl's rights with "harmful cultural practices."
Action is urgent. UNICEF reports at current rates of reduction, it will take over 100 years to end child marriage in West and Central Africa.
International Implications of US policy
In what one observer has called "Trump's war on African women," the bite of the administration's imposition of the Global Gag Rule is already having negative effects in Kenya ("a death warrant") and Uganda ("likely to increase maternal deaths") and "has hit healthcare [across] Africa." Human Rights Watch sums up the deleterious effects of the so-called "Protecting Life in Global Health Assistance Policy" in a letter to Secretary of State Rex Tillerson in advance of its 6-month review in November:
Lack of information about the policy and overreach in implementation
Reductions of key sexual and reproductive health services from well-established organizations that cannot easily be replaced
Loss of training and technical support to government clinics providing safe and legal abortion care, including under circumstances permissible under the policy, and post-abortion care
Concerns from healthcare providers about the likelihood of increased unsafe abortions and associated maternal deaths
Weakening of partnerships and coalitions working to end maternal mortality
Negative impacts for PEPFAR's work with key populations.
The Department of Health and Human Services is making "discriminating against reproductive rights central to its mission", including vigorous promotion of the "calendar method" ("25% ineffective"), "wrongly thinking that fertility awareness will help teenagers avoid pregnancy". In addition to the health and autonomy issues, the attack on family planning is "an attack on women's economic well-being."
A division of HHS, the Office of Refugee Resettlement, got involved in abortion politics for the first time, attempting to deny an underage undocumented girl from obtaining an abortion. After weeks of decisions and appeals, a US court finally allowed the girl to control her own destiny. The girl, called in court documents "Jane Doe", wrote a statement afterwards thanking her ACLU lawyers and the judge, and wondering why "People I don't even know are trying to make me change my mind. I made my decision and that is between me and God. Through all of this, I have never changed my mind."
The government is helped in its anti-abortion work throughout Latin America and the Caribbean by US groups pouring millions of dollars into campaigns. These attempts fly in the face of calls from the Inter-American Commission on Human Rights for better access to reproductive health services and as the UN Office of the High Commission for Human Rights "urged Paraguay to review its legislation and decriminalize abortion for cases of incest, rape and foetal deformations."
The US abortion rate "dropped 25% in just five years", and access to birth control could accelerate the decline, leading one columnist to ask, "Seriously, Why Do Conservatives Hate Birth Control?" "Uber for birth control" is expanding in conservative states, opening a new front in war over contraception. A new campaign called Keep Birth Control Copay Free, encourages women to send the president an invoice for how much they might spend on contraception without the birth control mandate in place. Planned Parenthood is unveiling a nationwide campaign to promote birth control.
Other domestic abortion debates, legislative battles and court decisions in California (does the disclosure law violate free speech?), Ohio (committee passes ban on abortion after Down Syndrome diagnosis), Indiana (Congresswoman tried to lock opening of family planning clinic), Maine (access to abortions done by advanced nurse clinicians will help women), Iowa (state supreme court puts state's abortion waiting period on hold), Missouri (new abortion restrictions take effect), Pennsylvania (In the face of Trump rollback, lawmakers push to expand access to contraceptives), Tennessee ("harder than ever" to get an abortion), Florida (ballot proposal draws concern from abortion-rights backers), Alabama (Federal judge strikes down two abortion restrictions) and Oklahoma (women retain their right to "evidence-based treatment"). A Congressional committee will hold hearings on a "heartbeat abortion ban."
Do we really have to contemplate "a post-Roe future"?
Contraception
A report out this week shows that Contraceptive Drugs and Devices Market will Surpass US$ 35.7 Billion by 2024. The WHO reminds us that human rights play a role in providing contraception services and programs. So how to get them to the right people at the right time?
PATH launched a new subcutaneous DMPA Access Collaborative, including programs in Malawi (improved continuation rates) and a Self-Injection Best Practices Project in Uganda. In Zimbabwe one article asks if women prefer male condoms. DKT is training 1,000 healthcare providers in IUD provision in Nigeria, where one of every 13 births worldwide will occur by 2050, according to UNICEF.
Investing in adolescent health can help avoid 30 million cases of unwanted pregnancies, according to The Lancet, and that education can come through many means — from their pediatricians, from rural mobile clinics (as in DRC) or mobile reproductive health services (in Rwanda). In Burkina Faso, health workers are being trained to integrate gender equality into their SHRH outreach.
The Evangelical Association of Malawi, where a conference of "faith communities taking action on sexual and reproductive health and rights" took place, said lack of appreciation for family planning by the clergy has led to rapid population increase in the country and a threat to the country's development, causing "swelling maternal deaths [and] high levels of poverty due to large families that come as a result of ignoring contraceptives." Though one commenter in Ghana asserted that access to contraceptives, and therefore a lack of abstinence, will "necessarily [lead to] problems of marital infidelity and related chaos in society."
But really, the best way is to #AskHer.
Discussion points
Vox did a focus group with men who had voted for Trump in Virginia and found that though they were anti-abortion, they did have nuanced and showed some flexibility about the circumstances for a woman's choice. "Some anti-abortion laws have 'absolutely no practical real-life value,' one man said."
When religion is used against reproductive rights, it can be hard to get the facts across. "Rather than focusing on what we believe, reproductive justice advocates should instead turn to what we know… The fact is, it is far safer to have an abortion in this country than it is to give birth to a child, and safer still to prevent an unintended pregnancy from happening in the first place. More women in the U.S. die of pregnancy-related complications than any other industrialized country and this gap is even more extreme for adolescents. Sadly, the U.S. also holds first place among these nations for our teen pregnancy rates… Women's experience preventing pregnancy is also powerful evidence. Contrary to the administration's claim that the exemptions won't impact those most "at risk," unintended pregnancy does not discriminate."
In an important area, US facts and figures are sorely lacking. "Data collection on maternal deaths is so flawed and under-funded that the federal government no longer even publishes an official death rate," according to ProPublica.
The religious debate continues in Nigeria, where some feel family planning has no place in Islam, though religious leaders are increasingly promoting it. Two other religious arguments against access: The "Pro Abundant Life" approach to emphasize "marriage as both a deterrent to abortion and as a source of hope after life is chosen." And "The atheist's case against abortion: respect for human rights."
Science fiction author and comedian Patrick S. Tomlinson caused a tweetstorm when he challenged one of the central notions used by 'pro-lifers' that life begins at conception, and that therefore, a human embryo holds the same value as a human child. His scenario: "You are in a fertility clinic when the fire alarm goes off. Before you escape, you have the option to save either a five-year-old child who is pleading for help, or a container of 1000 viable human embryos. Do you A) save the child, or B) save the thousand embryos?" he asks. "A human child is worth more than a thousand embryos. Or ten thousand. Or a million. Because they are not the same, not morally, not ethically, not biologically."
Genetic testing of embryos also "creates an ethical morass."
So much discussion remains about reducing stigma. One art exhibit in Oxford is using clothing design to reduce stigma. A reminder of why it's important comes from South Africa and the story of a woman who drank steel wool and brandy to try to induce an abortion rather than go to a hospital, "because of stigma."
Global scan
FP2020 released a video highlighting the work at the 2017 Family Planning Summit.
Ontario passed a law, and activists in the UK are working, to make it illegal to confront people outside abortion clinics. It is 50 years since the Abortion Act was passed in the UK, but "the service is in crisis." (One clinic was closed because its employees reported being pressured into "encouraging women to go through with a termination.") Women in Scotland will be allowed to take the abortion pill at home. Legal challenges to Northern Ireland's abortion law are reaching the courts.
Poland "says 'no' to international treaties on abortion." "Greying China" is looking at dropping all limits on birth control. India is looking at expanding legal abortion access to 24 weeks. The country "ranks as one of the highest in the number of reported adolescent pregnancies," perhaps because "thanks to lack of education, young Indian girls are unaware of their sexual and reproductive rights." Men in Hyderabad are not having vasectomies, even with a cash incentive, because they are afraid of "losing their libido." Failure to provide reproductive health services, including family planning, to Pakistan's poorest women, is the country's "maternal death shame."
Complete News Review References:
General/Global
Don't Ask Me, #AskHer, PSI Impact, 27 Oct 2017
Contraceptive Drugs and Devices Market to Surpass US$ 35.7 Billion by 2024, Industry Today, 27 Oct 2017
Watch Highlights from the Landmark 2017 Family Planning Summit, FP2020, 27 Oct 2017
Trump's ban on global abortion funding has already hit healthcare in Africa, The Independent, 27 Oct 2017
Teenage girls step in to stop child marriages in West Africa, Thomson Reuters Foundation, 27 Oct 2017
'This is groundbreaking': the activists ending harassment at abortion clinics, The Guardian, 27 Oct 2017
Supreme Court weighs challenge to California's abortion disclosure law: Does it violate free speech?, Los Angeles Times, 27 Oct 2017
What these male Trump voters think about abortion rights might surprise you, Vox, 27 Oct 2017
US restrictions a blow for Kenya, Uganda health sector, Daily Nation, 26 Oct 2017
Re: Early Impact of the Protecting Life in Global Health Assistance Policy in Kenya and Uganda, HRW, 26 Oct 2017
Black doulas, midwives and reproductive health advocates step up in response to rising black maternal deaths, Los Angeles Times, 26 Oct 2017
Ohio House Committee Passes Ban On Abortion After Down Syndrome Diagnosis, WOSU, 26 Oct 2017
Congress Will Hold a Hearing on a "Heartbeat" Abortion Ban, Slate, 26 Oct 2017
Federal judge strikes down two abortion restrictions in Alabama, Reuters, 26 Oct 2017
Women in Scotland will be allowed to take abortion pill at home, The Guardian, 26 Oct 2017
Ontario Abortion: Protests Outside Or Near Clinics Becomes Illegal In Province, Huffington Post, 26 Oct 2017
Want to Stop Abortion? Promote Marriage and Responsible Fatherhood, Care-net, 26 Oct 2017
Planned Parenthood Announces Nationwide Fight for Birth Control, Planned Parenthood, 26 Oct 2017
US groups pour millions into anti-abortion campaign in Latin America and Caribbean, The Guardian, 26 Oct 2017
Committee on the Elimination of Discrimination against Women reviews the situation of women in Paraguay, UNOHCHR, 26 Oct 2017
New exhibition challenges abortion stigma through clothing, University of Oxford, 26 Oct 2017
Facebook reacts after Indiana congresswoman seeks to stop new abortion clinic, Indianapolis Star, 26 Oct 2017
The Trump administration's attack on family planning is an attack on women's economic well-being, Washington Post, 25 Oct 2017
The Safe Days To Have Sex To Avoid Pregnancy, According To Science, Elite Daily, 25 Oct 2017
The safe delivery app, Maternity, 25 Oct 2017
Seriously, Why Do Conservatives Hate Birth Control? , MarieClaire, 25 Oct 2017
Maine Voices: Access to abortions done by advanced nurse clinicians will help women , Press Herald, 25 Oct 2017
Iowa Supreme Court puts state's abortion waiting period on hold , Reuters, 25 Oct 2017
The Trump Admin Thinks Birth Control Comes Cheap — Show Them Your Receipts , Refinery29, 25 Oct 2017
Undocumented Teen Pens Open Letter After Finally Obtaining An Abortion, Refinery 29, 25 Oct 2017
HHS Makes Discriminating Against Reproductive Rights Central To Its Mission, Medium/NOW, 25 Oct 2017
When religion 'trumps' reproductive rights, enter public health, Berkeley News 24 Oct 2017
Women fought for abortion rights. Fifty years on, the service is in crisis , The Guardian, 24 Oct 2017
Inter-American Commission on Human Rights Calls for Better Access to Reproductive Health Services, Center for Reproductive Rights, 24 Oct 2017
US Court Sides With Teen On Abortion, MSN, 24 Oct 2017
World Bank: Ending Child Marriage Would Boost West, Central Africa Economies, VOA, 24 Oct 2017
New abortion restrictions just took effect in Missouri. Here's what that means, Kansas City Star, 24 Oct 2017
The 'Uber for birth control' expands in conservative states, opening a new front in war over contraception, STAT news, 24 Oct 2017
Man's viral pro-choice question 'shuts down' the anti-abortion argument, The Independent, 24 Oct 2017
Forced sterilization of young women with disabilities must end, UN rights expert says , ReliefWeb, 24 Oct 2017
DSW in 2016: A year in review, DSW, 24 Oct 2017
Pediatricians have key role in providing sexual, reproductive health care services , AAP News, 23 Oct 2017
At current rates of reduction, it will take over 100 years to end child marriage in West and Central Africa, UNICEF, 23 Oct 2017
A Vision of Our Post-Roe Future, Slate, 23 Oct 2017
The Twitter thought experiment that exposes "pro-life" hypocrisy, Salon, 23 Oct 2017
A baby with a disease gene or no baby at all: Genetic testing of embryos creates an ethical morass, STAT News, 23 Oct 2017
Poland says 'no' to int'l treaties on abortion, News Mavens, 23 Oct 2017
Legal challenge to Northern Ireland's abortion law to begin Tuesday , Belfast Telegraph, 23 Oct 2017
Greying China looks at dropping all limits on birth control, South China Morning Post, 23 Oct 2017
In the face of Trump rollback, Pa. lawmakers push to expand access to contraceptives, PennLive, 23 Oct 2017
It's harder than ever to get an abortion in Tennessee , Salon, 23 Oct 2017
Sterilisation: Men take a back seat , Deccan Journal, 23 Oct 2017
How Many American Women Die From Causes Related to Pregnancy or Childbirth? No One Knows., ProPublica, 23 Oct 2017
An undocumented teen is pregnant and in custody. Can the U.S. stop her from getting an abortion?, The Lily, 22 Oct 2017
Abortion clinics & pro-choice orgs are getting cyber hacked , Axios, 22 Oct 2017
Thanks To Lack Of Education, Young Indian Girls Are Unaware Of Their Sexual And Reproductive Rights, Huffington Post India, 22 Oct 2017
Why India Ranks As One Of The Highest In The Number Of Reported Adolescent Pregnancies , Huffington Post India, 22 Oct 2017
Pakistan's maternal death shame . Daily Times, 22 Oct 2017
Abortion clinic accused of paying staff bonuses for persuading women to terminate pregnancies, The Independent, 21 Oct 2017
US abortion rate has dropped 25% in just 5 years, new figures reveal, Daily Mail, 21 Oct 2017
MTP Act amendments: Fear of foeticide may be trumping women's reproductive rights, The Print, 21 Oct 2017
Trump wants to replace birth control with the dubious 'calendar method', Newsweek, 20 Oct 2017
Birth Control Could Contribute to Abortion Rate Decline, Teen Vogue, 20 Oct 2017
The White House (Wrongly) Thinks Fertility Awareness Will Help Teenagers Avoid Pregnancy, Self, 20 Oct 2017
Ballot proposal draws concern from abortion-rights backers, Orlando Sentinel, 20 Oct 2017
The atheist's case against abortion: respect for human rights, America Jesuit magazine, 19 Oct 2017
Why Is It So Hard to Get Abortion Right in the News?, Women's Law Journal, 18 Oct 2017
Oklahoma Women Retain Right to Evidence-Based Treatment, Women Help Women, 18 Oct 2017
Donald Trump's War on Africa Women, Longreads, 16 Oct 2017
Academic
Our future: Invest in adolescent health now, The Lancet, 27 Oct 2017
Monitoring human rights in contraceptive services and programmes, WHO, 25 Oct 2017
Considerations for Expanding Ultrasound Use in Low-Resource Settings, MHTF, 25 Oct 2017
New Subcutaneous DMPA Access Collaborative launched, PATH, October 2017
Burkina Faso
Intégration du genre dans les programmes de santé sexuelle et reproductive : une cinquante d'agents outillés dans la région Plateau central , AIB, 23 Oct 2017
Cameroon
Maternal, Infant-child Mortality: Government's Remedial Measures Outlined, Cameroon Tribune, 27 Oct 2017
DRC
Our mobile clinics reach children in Kasai, DRC, Save the Children, Save the Children, 20 Oct 2017
Ghana
 Adolescent sexual and reproductive health: The Minister vs the MP , Ghana Web, 25 Oct 2017
Let abortion be covered by NHIS – IPAS Ghana , Ghana News Agency, 24 Oct 2017
Guinea Bissau
Popular Radio Presenter and YAM Member's Motivation for SRHR Work Inspired by Family Loss, IPPF, 24 Oct 2017
Kenya
'It is a death warrant': Kenyan health experts cross an ocean to talk Trump administration's gag rule, The Lantern, 27 Oct 2017
Post-abortion care with misoprostol – equally effective, safe and accepted when administered by midwives compared to physicians: A randomised controlled equivalence trial in a low-resource setting in Kenya, BMJ Open, 23 Oct 2017
When Women Rule: Kenyan rebel evades child marriage and Maasai curses to win power, Reuters, 23 Oct 2017
Deepening cost of gender gap in Africa, Business Daily, 22 Oct 2017
Escape From the Cut – a Shelter for Girls in Kenya Is Reviving Dreams , The East African, 18 Oct 2017
Malawi
Stakeholders take stock of N'zatonse : Sexual, reproductive health and rights project , Nyasa Times, 23 Oct 2017
EAM Drills Dowa Church Leaders On Family Planning, Malawi News Agency, 23 Oct 2017
Self-injection of DMPA-SC leads to improved continuation rates, Advancing Partners & Communities, October 2017
Namibia
Zambezi to combat harmful cultural practices,  New Era, 25 Oct 2017
Nigeria
NGF Receives 2000 Advocacy Tools To Reduce Maternal, Child Mortality, Leadership, 26 Oct 2017
One of every 13 births worldwide will occur in Nigeria by 2050 – UNICEF, Premium Times, 26 Oct 2017
Over 24% of Lagos Women Have Sex Before Age 18 – Govt , Premium Times, 26 Oct 2017
My Husband Doesn't Want Me To Go For Family Planning, Mamalette, 25 Oct 2017
[The Sexuality Blog] Hon. Gudaji thinks family planning has no place in Islam, but we disagree, Y'Naija, 22 Oct 2017
DKT Aims to train 1000 healthcare providers in Lydia IUD training in Nigeria, FP2020/DKT, 20 Oct 2017
Rwanda
Who is to blame for unwanted teenage pregnancies?, New Times, 24 Oct 2017
Senegal
High-level meeting aims to urgently accelerate action to end child marriage in West and Central Africa , UNFPA, 23 Oct 2017
Sierra Leone
Sierra Leone's first lady gets to grips with child marriage, Reuters, 24 Oct 2017
Ending child marriage in Sierra Leone, UNFPA, 25 Oct 2017
South Africa
Nohle drank steel wool and brandy to induce an abortion, Ground Up, 26 Oct 2017
South Sudan
WHO and the Ministry of Health strategize for an integrated Reproductive Maternal Newborn Child Adolescent Health and Nutrition approach in South Sudan, WHO, 19 Oct 2017
Uganda
Trump Policy likely to increase maternal deaths in Uganda, New Vision, 26 Oct 2017
Ugandan girls forced into child marriage because they can't afford sanitary pads , Thomson Reuters Foundation, 24 Oct 2017
Worlds apart: Reproductive health and rights in Uganda of inequalities, Daily Monitor, 23 Oct 2017
Self-Injection Best Practices Project: Uganda, PATH, October 2017
Zimbabwe
Do Women Prefer Male Condoms?, The Herald, 27 Oct 2017
Child marriages draft Bill complete, The Herald, 23 Oct 2017