News Review – 3 November 2017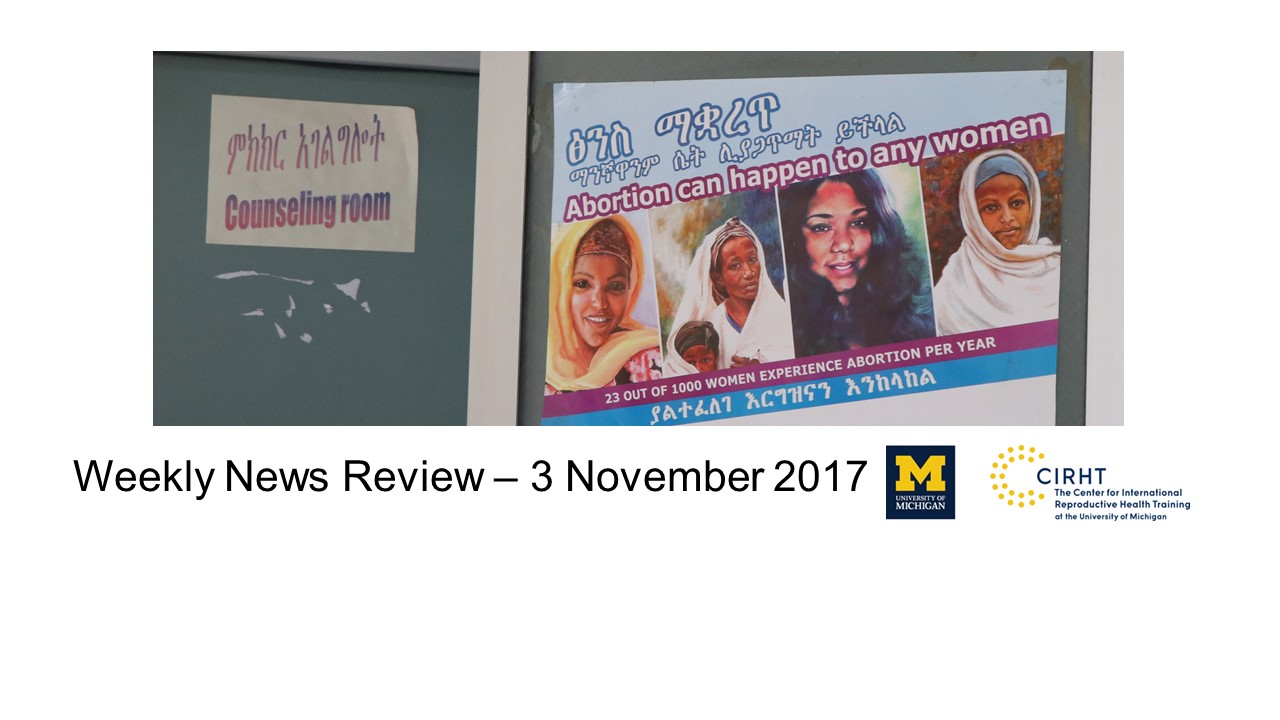 Education, Education, Education
Sex education programs can be the first steps towards greater usage of family planning methods throughout people's lives. And families using those methods "are less likely to end up in poverty."
Across Africa, Social Behavior Change Communications (SBCC) projects aimed at youth have shown effectiveness, reaching youth where they work, live and play, and in "vulnerable" locations. Several case studies presented by the Health Communication Capacity Collaborative (HC3) provide examples from Benin (two of them), Kenya, and Madagascar (two of them). Another project in Madagascar looks at a "whole-school approach" to sexuality education, as a strategy to "radically improve" access to reproductive education. Population Services International (PSI) worries that "Tanzania's youth don't relate to family planning" and has expanded its Adolescents 360 project to expand outreach based on feedback from teenage girls. The solutions focus on changing how adolescents feel about contraception – not only how they think about it. This aligns well with the goal of human-centered design to build empathy. .A similar approach to give adolescents their own voice was taken in a project in Sierra Leone. UNFPA in Somalia is stepping up "youth friendly" reproductive health services in a place where they are "non-existent, preventing young women and men from accessing such vital care at the appropriate time." A study published by PLOS One looks at how ethnographic factors affect family planning uptake in three districts in Ghana and concludes, "Health teams working to improve sexual and reproductive health care must find suitable context strategies that effectively work to improve women reproductive care needs at their operational level."
In Malawi, the health minister is encouraging faith based institutions "to open up and speak on issues like sexual reproductive health (SRH)," calling it a "a key step in ensuring that Malawi has a well-managed and healthy population." That's in contrast to the debate in Namibia about Comprehensive Sexuality Education (CSE), where "a section of the Namibian ecumenical society has expressed its reservations against what they perceive as sex education in school, especially at primary level… Yet in this secular era, teachers cannot, must not and should not be expected to approach such a matter purely from a religious point of view." Mozambican women from Tete received information and access to contraceptive methods, and were urged to use them, during the province's National Health Week. In Nigeria, achieving the country's family planning goals requires addressing cultural barriers, because education is a big factor in reducing maternal mortality; the MTN Foundation and Action Health Incorporated each have outreach initiatives to increase use of family planning methods; and 59 health workers in Bauchi state were urged to "mobilize women to embrace child spacing to reduce maternal and child mortality rates." Rwanda is addressing the issue by "creating a platform that avails information on sexual reproductive health, using technology called 'Mobile For Reproductive Health' (M4RH)."
One Family Planning High Impact Practices brief released on using mass media channels notes they "can influence individual behaviors by providing accurate information, building self-efficacy, and promoting attitudes and social norms that support healthy reproductive behaviors."
Sometimes education and outreach can't achieve their goals on their own, as in Uganda where a reluctance to have vasectomies and "too-small condoms" were cited as issues.
In California, "the Healthy Youth Act mandates that sexual education in the state include information on abortion, consent, sexual assault, and harassment. When it was passed, [in 2015] California was also the only state that required sex education be medically accurate, age-appropriate, LGBT-friendly, and culturally-inclusive." It has been a success.
The lack of education on these matters has terrible real-world effects, as in a story about "the slow march to unsafe abortion" from Malawi and another about a schoolgirl death from unsafe abortion in Lesotho.
African Abortion Debates
Rwanda is considering changing its penal code to remove a judicial barrier to safe abortion, which "will save lives of people who would have otherwise ended up in illegal procedures," according to an advocate for the change. A judge in Uganda, where the  High Teenage Pregnancy is a Set Back to Uganda's Middle Income Drive, is urging, "Don't criminalise women who abort." Marie Stopes International has been criticized in Kenya for a staff visit to a Catholic-sponsored secondary school promote family planning, "having drawn so much ire that a civil society now wants the health ministry to de-register it altogether… And on the provision of abortion services, which appears to be in contravention of the Constitution, [they] said they were abiding by the law."
US Abortion Threats at a Fever Pitch
In the Federal government: The Department of Health and Human Service's strategic plan for 2018 "protects Americans at every stage of life, beginning at conception," three words which could "render all abortions illegal, and could also criminalize most forms of contraception, with the exception of condoms." HHS also is about to release a notice of funding for the Title X program, which annually awards $280 million in grants to clinics around the country for providing birth control and other family planning services to about 4 million Americans, most of them low-income. Some Title X recipients — especially clinics that provide abortions — are nervously awaiting the notice, which could bar them from using non-taxpayer dollars to offer abortions, restrict the types of contraception Title X will cover or shift the program's focus from birth control to abstinence." The head of the HHS's Office of Refugee Resettlement "confirmed reports that he has visited pregnant minors in his custody to persuade them to carry unwanted pregnancies."
In legislatures: The tax bill that was introduced in Congress includes a provision that explicitly states unborn children are eligible for tax-advantaged 529 college savings plans, strengthening the argument that unborn children should be treated as people and given equal protection under the law. Congress held hearings on "The Heartbeat Protection Act" which would prohibit all abortions after six weeks. Another bill was introduced that would impose taxes on bonds, which are normally tax-free, which are used to provide facilities owned by abortion providers. These bills will "bring back coat hanger abortions." The administration's controversial nominee to be ambassador-at-large for global women's issues, a prominent conservative activist, nevertheless decided to criticize fellow Republicans. A Republican New York Congressman was greeted by silent protestors wearing "Handmaids' Tale" attire. The Ohio legislature passed a bill banning abortion after a Down syndrome diagnosis. Wisconsin is considering a bill that would prohibit state health insurance programs from covering abortions for state workers.
In the courts: Two national advocacy groups filed a federal lawsuit challenging a rule change by the Trump administration allowing more employers to opt out of no-cost birth control for workers The administration is considering disciplinary action against the ACLU lawyers who fought for the right of an under-aged undocumented teenager to have an abortion. In California, a judge struck down a law requiring "pregnancy crisis centers" to give information about abortion availability as a violation of free speech. The ruling will be appealed. In Texas, where an editorial in The American Journal of Public Health "sounds alarms" over cuts to family planning, a challenge to a law banning D&E procedures is going to trial. Planned Parenthood is suing the state of Missouri over a portion of its new abortion law involving requirements for administering abortion pills. In Florida, a man convicted of killing an abortion doctor in 1993 was denied parole and will serve his sentence until 2043.
In political races: Abortion stances making headlines in Michigan, Alabama, New Jersey, West Virginia, and in Ohio, where the governor asks naively, on abortion, "why can't we agree to disagree," ignoring all of the proposed restrictions listed above.
On the positive side of the struggle, a new abortion clinic is about to open in South Bend, Indiana. An abortion provider in Maryland who was driven from his clinic is vowing to re-open. And a woman provider was sick of the stigma of her work and defiantly had a coat hanger and the words "Never Again" tattooed on her arm.
Two philosophical arguments: One philosopher argues that providing contraception and abortion access should be agreeable to conservatives who want to reduce welfare and poverty: "1) Anyone on welfare should be eligible for free contraception materials (condoms and/or pills). Consider this an investment in reducing future welfare rolls. 2) Anyone on welfare is eligible for a free voluntary sterilization procedure.  A further investment in reducing welfare rolls. 3) Women who conceive while receiving welfare payments will have a once-in-a-lifetime opportunity to get a free abortion. Welfare payments will not be increased for the parent(s) of any children conceived while they are on welfare." The conservative Federalist proclaims "The abortion-rights Left seeks to frighten pro-choice women into believing that… Republicans will force women to undergo pregnancy or resort to back-alley abortions., [and the] equally absurd the notion that… overturning of Roe v. Wade, will render all, or even most, abortions illegal,"
insisting that Congress and legislatures will assure rights, based on jurisdiction and political will. It's a possibility noted by the liberal Nation, which asks, "Can Cities Save Our Reproductive Rights from the Grabby Hands of Donald Trump?"
Complete News Review References:
General/Global
'Government family-planning program to cut poverty, hasten economic growth', Business Mirror, 3 Nov 2017
Family Planning: Too important, yet ignored, Daily Star, 3 Nov 2017
Trump administration suggests possibility of disciplinary action against ACLU lawyers in abortion case, Washington Post, 3 Nov 2017
What's Going Wrong with our Sex Education?, Girls Globe, 3 Nov 2017
You Do Uterus: On fundamentals like abortion, we can't 'agree to disagree', Daily Trojan, 2 Nov 2017
Can Cities Save Our Reproductive Rights from the Grabby Hands of Donald Trump? , The Nation, 2 Nov 2017
Assembly to take up bill banning abortion coverage , Minneapolis Star Tribune, 2 Nov 2017
This Gubernatorial Candidate Says He Would 'Unabashedly Lead' on Protecting Reproductive Rights in Michigan, Rewire, 2 Nov 2017
Abortion Foes Are Cheering This Provision in New GOP Tax Bill, NBC News, 2 Nov 2017
Doug Jones speaks on abortion issue, wants 'to be clear' on where he stands, AL.com, 2 Nov 2017
Texas ban on abortion procedure heads to trial , Texas Tribune, 2 Nov 2017
Here's the next way the Trump administration could go after abortion providers, Washington Post, 2 Nov 2017
A threat to reproductive health, The Appalachian, 2 Nov 2017
Judge Halts California Law Forcing Pro-Lifers to Advertise Abortions, Daily Signal, 2 Nov 2017
Ohio House passes bill to ban abortion after Down syndrome diagnosis , USA Today, 2 Nov 2017
I Had an Illegal Abortion in 1965 and Could Have Bled to Death. We Can't Go Back to Those Days. Cosmopolitan, 2 Nov 2017
U.S. preterm birth rate on the rise for second year in a row, March of Dimes, 1 Nov 2017
Children of parents using birth control are less likely to end up in poverty, MarketWatch, 1 Nov, 2017
Family planning: Demographic cells established in Punjab districts, The Express Tribune, 1 Nov, 2017
Lawsuit targets Trump's rollback of birth-control rule, AP, 1 Nov 2017
AG to Appeal Ruling Against Reproductive FACT Act, SVC News, 1 Nov 2017
The unequal world of women's reproductive health, The East African, 1 Nov 2017
Florida man who killed abortion doc gets 2043 release date, AP, 1 Nov 2017
Majority would support abortion on demand, says Amnesty poll, Irish Times, 31 Oct 2017
Shortsighted planning: Changes to the mission of HHS mean family planning is under attack by the president., Houston Chronicle, 31 Oct 2017
H.R. 490: Heartbeat Protection Act of 2017, 31 Oct 2017
UN aims to get more PH companies in family planning project, ABS-CBN, 31 Oct 2017
Can You Skip Birth Control Placebo Pills? Here Are 5 Things You Should Know Before You Do, Elite Daily, 31 Oct 2017
Serbian church leaders spark controversy with remarks against abortion, Orthodox Christianity, 31 Oct 2017
This Is What It's Like On The Front Lines Of Nicaragua's Abortion Crisis, Huffington Post, 31 Oct 2017
Abortion services can handle treatment plan for N Ireland patients, MSPs told, Belfast Telegraph, 31 Oct 2017
Health Journal Sounds Alarm Over Texas Cuts to Family Planning, Public News Service, 30 Oct 2017
International Planned Parenthood Federation Meets Reproductive Health Needs of Rohingyas, ReliefWeb/IPPF, 31 Oct 2017
Are you using the wrong contraceptive? As it's revealed one in FIVE young women have experienced an unwanted pregnancy, experts say we MUST prioritise sexual health and ask the awkward questions, Daily Mail, 31 Oct 2017
Late-stage abortion provider won't succumb to protesters who forced him out of his last Maryland clinic, Daily Intercept, 30 Oct 2015
Reduce birth control costs to cut crisis pregnancy numbers, say doctors, Irish Examiner, 30 October 2017
One life, one change: Against stereotype, a specialist in a procedure that has very few takers, Indian Express, 30 Oct 2017
Johnson co-sponsors bill to keep taxpayer dollars out of abortion facilities, Baptist Message, 30 Oct 2017
Sharp Divide on Abortion and Schools in New Jersey Governor Race, WNYC, 30 Oct 2017
US abortion doctor says 'I'm not going to live in fear', BBC, 30 Oct 2017
Did Patrick Morrisey once support abortion rights?, Politifact, 30 Oct 2017
Whole Woman's Health officially announces South Bend abortion clinic plans, WNDU, 30 Oct 2017
Federal Agency Director Admits to Interfering in Immigrants' Reproductive Health Choice, Rewire, 30 Oct 2017
FemCap, Inc. Launches Awareness Campaign For Women's Reproductive Health at CYCLES+SEX in Los Angeles, PR Newswire, 30 Oct 2017
7 Reasons Your Period Could Be Late, Other Than Pregnancy, Allure, 30 Oct 2017
25th Anniversary Celebration, Center for Reproductive Rights, 30 Oct 2017
Planned Parenthood sues for second time over Missouri abortion law, St. Louis Post-Dispatch, 30 Oct 2017
Reflections on Women-Centered Health Care Then and Now, MHTF, 30 Oct 2017
Family planning: Need for collective action, Daily Pioneer, 30 Oct 2017
No, Overturning Roe v. Wade Will Not Make Abortion Illegal, The Federalist, 30 Oct 2017
Women Thrive Is Turning 20! A Brief Look At The Past 20 Years, Women Thrive, 30 Oct 2017
'No more royal babies' Kate and William urged to NOT have more kids to stop APOCALYPSE, Daily Star, 29 Oct 2017
Abortion, Contraception and Welfare – A Proposal, Patheos, 29 Oct 2017
Women protest Rep. Donovan's reproductive policy in 'handmaids' attire, SI Live, 29 Oct 2017
Will the new government act on abortion? Campaigners want law change soon, Stuff, 29 Oct 2017
Improving sexual and reproductive health and rights knowledge, The Daily Star, 29 Oct 2017
Argentina bans abortion in most cases. So why is its abortion rate far higher than that of the U.S.?, Los Angeles Times, 29 Oct 2017
Women should be free to take abortion pills at home, says top gynaecologist, Metro, 28 Oct 2017
Judge allows self-abortion case against woman to proceed, WDBJ, 28 Oct 2017
Government still paying £250,000 of tampon tax to anti-abortion charity, Metro, 28 Oct 2017
Likely Trump envoy nominee slams Senate Republicans, Politico, 27 Oct 2017
Coat Hanger Abortions Are Making a Comeback With Introduction of New GOP Bill, The Root, 27 Oct 2017
Interview: Sheena Hadi, Executive Director Aahung, NewsLine, 25 Oct 2017
What Happened After California Revolutionized Sex Ed, Broadly, 25 Oct 2017
What a Difference Development Makes…, PSI, 11 Oct 2017
Academic
Reproductive Investment and Health Costs in Roma Women, International Journal of Environmental Research and Public Health, 3 Nov 2017
Large-Scale Australian Study Supports Genetic Screening to Aid Informed Reproductive Choices, SMA Today, 3 Nov 2017
Evaluation of the Effectiveness of the HERhealth Model for Improving Sexual and Reproductive Health and Rights Knowledge and Access of Female Garment Factory Workers in Bangladesh, Business for Social Responsibility, 2 Nov 2017
The contribution of changes in sexual activity and contraceptive use to the decline in conception rates among under-20s: A comparison of Britain and the United States, Guttmacher, 1 Nov 2017
Introducing the Fifth MHTF-PLOS Collection: "Non-Communicable Diseases and Maternal Health Around the Globe", MHTF, 1 Nov 2017
Mass Media: Reaching audiences far and wide with messages to support healthy reproductive behaviors, HIP, 1 Nov 2017
Jhpiego Annual Report, Jhpiego, 31 Oct 2017
Protocol for a scoping review to identify and map the global health personnel considered skilled attendants at birth in low and middle-income countries between 2000 and 2015,BMJ Open, 15 Oct 2017
Urban Adolescent SRH I-Kit Experiences Captured in New Supplement, HC3, September 2017  (supplement to: Urban Adolescent SRH Social and Behavior Change Communication (SBCC) Implementation Kit (I-Kit))
Benin
Organisation pour le Service et la Vie/Jordan (OSV-Jordan) in Benin., HC3, 2 Nov 2017
Mutuelle de Jeunes Chrétiens pour le Développement (MJCD) in Benin, HC3, 2 Nov 2017
Ethiopia
Emergency Obstetric, Newborn Care Facilities Increase by Fourfold: Survey, ENA, 30 Oct 2017
Ghana
Stakeholder's experiences, expectations and decision making on reproductive care: An ethnographic study of three districts in northern Ghana, PLOS One, 1 Nov 2017
Kenya
Family Health Options Kenya (FHOK) in Homa Bay, Kenya, HC3, 2 Nov 2017
Marie Stopes speaks out amid storm on abortion, contraception, The Nation, 29 Oct 2017
Lesotho
School girl dies from illegal abortion, Journal du Cameroon, 17 Oct 2017
Madagascar
Mpanazava Eto Madagasikara (MEM) in Madagascar, HC3, 2 Nov 2017
Projet Jeune Leader (PJL) in Madagascar, HC3, 2 Nov 2017
Empowering Very Young Adolescents to Make Healthy and Informed Sexual Health Decisions from Puberty into Adulthood, Open IDEO, 30 Oct 217
Malawi
Nsanje's Increased Cases of Child Early Marriages Worries VSO, Malawi News Agency, 31 Oct 2017
Slow March to Unsafe Abortion, The Nation, 27 Oct 2017
Minister Muluzi commends Livingstonia Synod for promoting Sexual Reproductive Health, Nyasa Times, 27 Oct 2017
Mozambique
Tete women urged to use family planning, Club of Mozambique, 1 Nov 2017
Namibia
Unpacking the comprehensive sexuality education debate, New Era, 3 Nov 2017
Namibia lacks data on child marriages, New Era, 2 Nov 2017
New mobile Nappa clinic for Zambezi, The Namibian, 1 Nov 2017
Nigeria
Experts counsel govt on family planning goal, Nigerian Tribune, 2 Nov 2017
Education big factor in maternal mortality, says Briggs, The Nation, 2 Nov 2017
MTN Foundation revitalises fight against maternal, child mortality, Vanguard, 2 Nov 2017
'More than 200m Females Are Carrying Pains of Genital Mutilation Globally', This Day, 2 Nov 2017
LUTH gets new centre to tackle child mortality, The Guardian, 2 Nov 2017
59 health workers trained on long term family planning methods, Daily Trust, 1 Nov 2017
A-Ibom, AHI partner to scale up family planning method, Vanguard, 1 Nov 2017
Rwanda
What difference will revised Penal Code make on abortion?, New Times, 1 Nov 2017
The power of awareness in reproductive health among youth, New Times, 1 Nov 2017
Sierra Leone
Preventing teenage maternal death in Sierra Leone (video) and poster, Lucy November, Kings College, 3 Nov 2017
Somalia
Stepping up youth-friendly reproductive health services, ReliefWeb/UNFPA, 2 Nov 2017
South Africa
Child marriages: A global and national disgrace, Daily Maverick, 31 Oct 2017
Tanzania
Tanzanian teens don't relate to family planning, PSI, 30 Oct 2017
Uganda
How about a vasectomy? Uganda wants more men to say yes, Middletown Press/AP,3 Nov 2017
Has politics overshadowed the Women's Movement?, Daily Monitor, 3 Nov 2017
Fight over providing birth pills to teens continues, The Observer,2 Nov 2017
Don't criminalise women who abort, says judge, Daily Monitor, 2 Nov 2017
High Teenage Pregnancy Set Back to Uganda's Middle Income Drive, IPPF, 31 Oct 2017
Condoms too small for us – Karamoja youth, Daily Monitor, 30 Oct 2017
 Trump policy harming Uganda's health services, says rights body, Daily Monitor, 30 Oct 2017
 Zimbabwe
 Family planning services too reliant on donor funding, Newsday, 1 Nov 2017
30 to 40% of teenagers sexually active, Newsday, 30 Oct 2017
Calls for more funding towards family planning, ZBC, 29 Oct 2017
'Use of contraceptives remains low in rural women', Newsday, 29 Oct 2017