News Review – 10 November 2017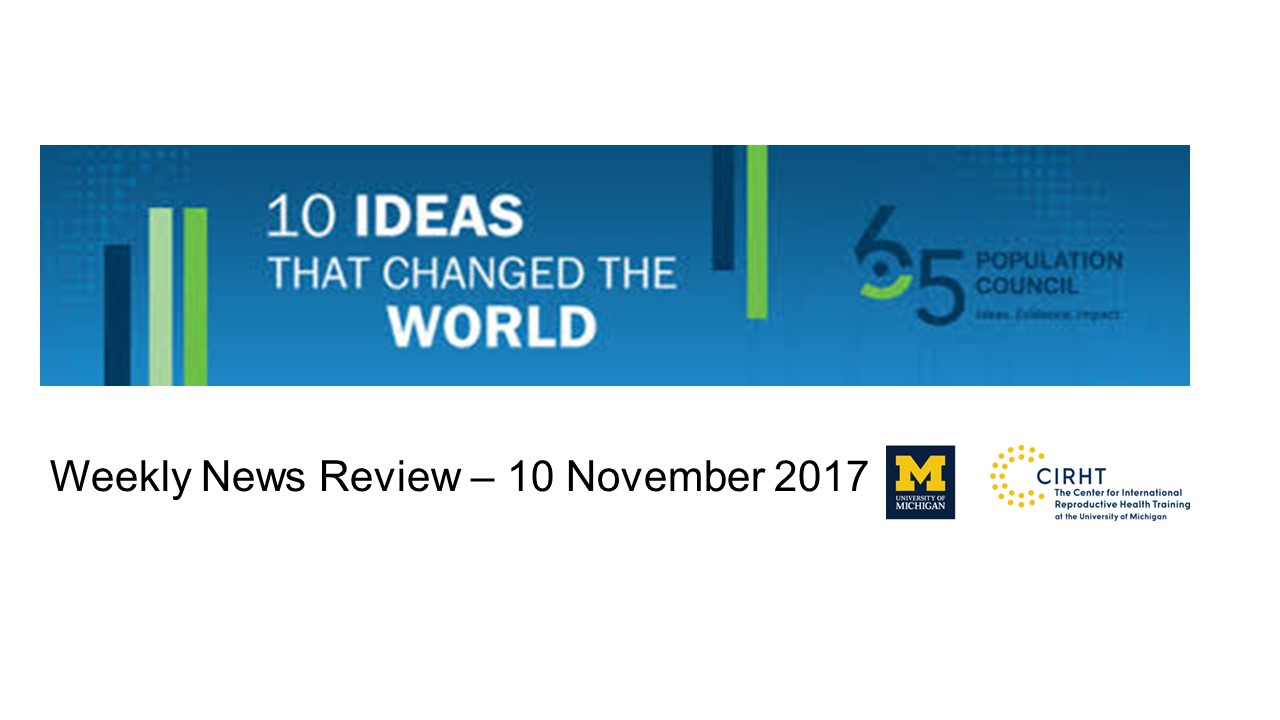 Population Council "Ideas that Changed the world"
The week saw a celebration of the Population Council's 65th anniversary, for which they released "10 Ideas the Changed the World." Taking their lead, some of those ideas have direct relevance in the week's news:
Making the case to invest in adolescents when it counts
Recognizing sexual health education is about more than biology and individual behaviors
Recognizing women and girls as central to development
Putting clients at the center of quality health care
Demonstrating the benefits of family planning programs
Establishing the field of long-acting reversible contraceptives (LARCs)
Adolescents and Education
An essay in Modern Ghana points out that educating young women on reproductive health is "the way to teenage pregnancy and maternal death eradication." In Malawi, religious leaders gathered and approved a plan to disseminate more material on Sexual and Reproductive Health and Rights through churches and mosques, and to create more youth-friendly outreach clinics, to "break the silence." A new mobile family planning clinic in Namibia will bring services to young people in remote areas to provide "family planning, HIV screening and treatment for sexually transmitted infections, sexuality education and much more." A broad-ranging study tracked 450 teenagers and their guardians over four years in 15 countries, including Nigeria, Kenya and South Africa, and determined "If you're waiting until your children become teenagers to talk to them about sex and gender, it may be too late." South Africa is taking action, "introducing sex education to youngsters." In Uganda: Adolescents and sex: Education is key, which gives young people a say in deciding their future.
Protecting Nigerians young girls Safe Love's "'No Sugar Daddy, Bright Future Campaign'… hopes to combat the negative effects of inter-generational sex, reduce the high rate of new HIV infections among young girls, discourage widespread sugar daddy culture and beckon on the government to tighten sexual abuse laws so as to protect young girls and give abused girls justice."
University of Pennsylvania Nursing researchers found that "sexually active teenagers and young adults who encounter sexual risk reduction information on social media platforms are more likely to use birth control or protection."
Sex education can have its sensitivities. A UNESCO report says "secondary school teachers in Kenya depict sex as dangerous and immoral to their students." A cartoonist takes on "teaching girls to be ashamed in sex ed. This has to change."
Pathfinder International released "Cue Cards for Counseling Adolescents on Contraception," which can help de-mystify the process.
Family Planning Access and Development
Important research shows IUDs may cut risk of cervical cancer by a third.
In Tanzania, where registration of new clients for family planning is on the increase, "family planning is a crucial economic catalyst."
Avoiding adolescent pregnancy has significant economic benefits, for the girls and their families. One World Bank study cited in the report "suggests that the lifetime opportunity cost related to adolescent pregnancy—measured by the mother's foregone annual income over her lifetime—ranges from 1 percent of annual GDP in China to 30 percent of annual GDP in Uganda.
Safe abortion is overwhelmingly understood to save lives. In Kinshasa, Guttmacher shows that clandestine abortion is "common and often unsafe." IPAS reminds that safe abortion services are "relevant" in Ghana. In Rwanda, the law is being examined to reduce illegal abortions: "Critics say that while this law is good, it has also fueled the problem of illegal abortions because of the conditions one has to fulfill in order to get safe abortion services." In Namibia a woman is being prosecuted for performing an illegal abortion with a stick. A study in BMC Pregnancy and Childbirth shows that abortion rights give women empowerment, especially in legally-restricted contexts.
Abortion law liberalization drives in Ireland, South Korea, Scotland, and Jamaica; challenges in Poland, Brazil and Mexico, where "a baby death trial reveals growing persecution of women who miscarry."
While the new US government policy is hurting women and the environment, and forcing foreign health groups to cut services, recent elections showed wins for champions of reproductive rights, and a group of 24 major corporations (and growing) vowed to continue to support birth control for their employees.
Complete News Review References (Academic and Africa listed first)
Academic
Abortion as empowerment: reproductive rights activism in a legally restricted context, BMC Pregnancy and Childbirth, 8 Nov 2017
The effects of family planning and other factors on fertility, abortion, miscarriage, and stillbirths in the Spectrum model, BMC Public Health, 7 Nov 2017
Abortion in the British Isles, France and North America since 1800 –  Call for Papers, H-Annouce, 6 Nov 2017
Mapping the evidence on social, behavioural and community engagement for reproductive, maternal, newborn, child and adolescent health, ReliefWeb/International Initiative for Impact Evaluation, 5 Nov 2017
Insurance-Related Practices at Title X-Funded Family Planning Centers under the Affordable Care Act: Survey and Interview Findings, Guttmacher, 3 Nov 2017
Intrauterine Device Use and Cervical Cancer Risk: A Systematic Review and Meta-analysis, Obstetrics & Gynecology, 3 Nov 2017
Why Family Planning Policy and Practice Must Guarantee a True Choice of Contraceptive Methods, Guttmacher, 1 Nov 2017
Cue Cards for Counseling Adolescents on Contraception, Pathfinder International, 1 Nov 2017
A prospective cause of death classification system for maternal deaths in low and middle-income countries: Results from the Global Network Maternal Newborn Health Registry BJOG, 1 Nov 2017
Statement on Maternal Sepsis, WHO, November 2017
Measuring mistreatment of women during childbirth: a review of terminology and methodological approaches, Reproductive Health, 26 Oct 2017
High birth rates despite easy access to contraception and abortion: a cross-sectional study, Acta Obstetricia et Gynecologica Scandinavica, 16 Sep 2017
DRC
Clandestine Abortion Is Common in Kinshasa, and Procedures Are Often Unsafe, Guttmacher, 7 Nov 2017
Trump's 'global gag rule on steroids' threatens Congolese clinics, PRI, 3 Nov 2017
The incidence of induced abortion in Kinshasa, Democratic Republic of Congo, 2016, PLOS One, 2 Oct 2017
Ethiopia
Dawn of Babies, Addis Fortune, 28 Oct 2017
Gambia
TGA Engage Women Councillors on FGM Law Enforcement, Foroyaa, 7 Nov 2017
Ghana
Safe abortion services are relevant – Ipas, GhanaWeb, 4 Nov 2017
Girl Child Education On Adolescent Reproduction Health, The Way To Teenage Pregnancy And Maternal Death Eradication In Ghana, Modern Ghana, 2 Nov 2017
Kenya
Health providers must be protected by the law adequately, The Standard, 4 Nov 2017
Why teachers avoid sex topics in school: Study, Daily Nation, 25 Oct 2017
Malawi
Malawi religious leaders call for action on N'zatonse project, Nyasa Times, 6 Nov 2017
Namibia
NAPPA unveils youth-friendly clinic in Kavango, New Era, 7 Nov 2017
Walvis Bay abortion suspect granted bail, NAMPA, 2 Nov 2017
Nigeria
Ogun, Kano, Others Commit To Reproductive Health, The Whistler, 9 Nov 2017
'Stop Contraceptive Stock-Out To End Unplanned Pregnancies', The Independent, 8 Nov 2017
SFH launches Flex Condoms in Nigeria, Vanguard, 7 Nov 2017
Safe Love moves to save 1m girls from HIV, unwanted pregnancy, Vanguard, 7 Nov 2017
Dankwambo Expresses Commitment To Reduce Child Mortality, PM News, 3 Nov 2017
Rwanda
Why are more women opting for illegal abortion?, New Times, 6 Nov 2017
Senegal
Case study: Family planning: Senegal, Global Goals, 6 Nov 2017
Sierra Leone
New strategy launched to help tackle maternal, child deaths in Sierra Leone, WHO/ReliefWeb, 6 Nov 2017
South Africa
Sex education introduced to the youngsters, News 24, 9 Nov 2017
Tanzania
Family planning cited as crucial economic catalyst, Daily News, 7 Nov 2017
Asking to stand with young people in Tanzania to help make child marriage illegal (petition), PLAN International. 7 Nov 2017
Registration of new clients for family planning on the increase, IPP Media, 3 Nov 2017
Uganda
Adolescents and sex: Education is key, Daily Monitor, 7 Nov 2017
The Challenges of Family Planning Campaigns in Uganda, IPPF, 7 Nov 2017
Young men, boys team up to promote gender equality and healthy choices, UNFPA, 7 Nov 2017
Kadaga, church team up in child-marriage fight, Daily Monitor, 6 Nov 2017
When health knowledge, business skills are combined to give young people a say in deciding their future, UNFPA, 6 Nov 2017
Saying no to irresponsible sex is a life skill our children need, Daily Monitor, 5 Nov 2017
Healthier sex lives for young persons with disabilities, This is Africa, 26 Oct 2017 (UNFPA Uganda)
General/Global
Trump family planning policy may up population, hurt women, environment, Mongabay, 10 Nov 2017
Facebook Is Ignoring Anti-Abortion Fake News, The New York Times, 10 Nov 2017
"My Body, My Life" Exhibition Confronts the Often Overlooked Realities of Abortion, The Mary Sue, 10 Nov 2017
Brazilian male MPs chant 'abortion no' after voting to ban terminations for pregnant rape victims, The Independent, 10 Nov 2017
Religious Leaders Gather to Bless Texas Abortion Clinic, Texas Observer, 10 Nov 2017
6 Myths You Might Believe About Medical Abortion, Self, 9 Nov 2017
Not Forgotten: The Health And Rights Of Rohingya Women And Girls, Huffington Post, 9 Nov 2017
A campaign to legalise abortion is gaining ground in South Korea, The Economist, 9 Nov 2017
How much would female reproductive health cost in your state without Obamacare?, Quartz, 9 Nov 2017
Innovations in Midwifery Save Mothers' Lives: Q&A With Geeta Lal, New Security Beat, 9 Nov 2017
Mexico baby death trial reveals growing persecution of women who miscarry, The Guardian, 8 Nov 2017
These 2017 Election Winners Backed Reproductive Rights — And You Can Thank Women For That, Bustle, 8 Nov 2017
'I Know What it's Like': The 80-Something Abortion Pioneer Who Just Won't Quit, Broadly, 8 Nov 2017
Take family planning to those who need it most*, Trinidad express, 8 Nov 2017
Florida lawmakers are funding anti-abortion clinics, Miami Herald, 8 Nov 2017
These 24 Employers Commit To Birth Control Coverage As Planned Parenthood Fights Trump Admin, Forbes, 8 Nov 2017
Planned Parenthood advocates take aim at NC ultrasound law, Citizen Times, 8 Nov 2017
Benefits, burdens of Texas abortion procedure ban debated in 5-day trial, Texas Tribune, 8 Nov 2017
Foreign health groups cutting services after a White House decision on abortion funding, STAT News, 8 Nov 2017
South Sumatra intensifies family planning program, Antara News, 8 Nov 2017
Global reproductive rights experts in Dublin to discuss abortion access, Irish Times, 8 Nov 2017
Health Canada announces changes to how abortion pill is prescribed, dispensed, The Star, 7 Nov 2017
George HW Bush's Father, Prescott Bush, Once Served as Planned Parenthood's Treasurer, Western Journalism, 7 Nov 2017
President says abortion laws are abused in Poland, Radio Poland, 7 Nov 2017
DKT International Releases 2016 Contraceptive Social Marketing Statistics, Business Insider, 7 Nov 2017
Health chief vows to carry out reproductive health law, Philippines Inquirer, 7 Nov 2017
IUDs may cut risk of cervical cancer by a third, study indicates, The Guardian, 7 Nov 2017 (See Academic reference above)
The GOP tax plan is an anti-adoption recipe for abortion, Washington Post, 7 Nov 2017
10 Ideas That Changed the World, Population Council, 7 Nov 2017
Abortion Provider Non-Discrimination Amendment Act of 2017, David Grosso (DC),7 Nov 2017
State pays €30,000 to woman denied abortion in Ireland, Irish Examiner, 7 Nov 2017
IUDs May Have a Surprising Health Benefit, Time, 7 Nov 2017
Nurse Midwives Are Trained, Lifesaving Professionals. Why Are We Holding Them Back?, Slate, 6 Nov 2017
How Climate Change Drives Child Marriage, NewsDeeply, 6 Nov 2017
Seventh Circuit Weighs Burden of Indiana's Abortion Ultrasound Rule, Courthouse News, 6 Nov 2017
10 myths about birth control you need to stop believing right now, Insider, 6 Nov 2017
Scotland offers free abortions to women from Northern Ireland, BBC, 6 Nov 2017
GOP Lawmaker Suggests Forced Childbirth Could Help 'Economic Growth', Broadly, 6 Nov2017
The American Society of Reproductive Medicine: Men will be Able to Give Birth, Novinite, 6 Nov 2017
Make abortion legal, Jamaica Star, 6 Nov 2017
We teach girls to be ashamed in sex ed. This has to change., The Lily, 5 Nov 2017
Trump vs. the pill, Concord Monitor, 5 Nov 2017
Women Are Sharing Their Abortion Stories To Try To Tackle The Stigma Of Ending A Pregnancy, BuzzFeed, 4 Nov 2017
Birth control a matter of free will — State Journal editorial from 50 years ago, Madison.com, 4 Nov 2017
Should you really be talking to your 10-year-old child about sex?, Bhekisisa, 4 Nov 2017
Life or death: Giving birth in Burma, Democratic Voice of Burma, 3 Nov 2017
Lawmaker wants to shift sex ed focus to reproductive health, Desert News, 3 Nov 2017
THL: Finland has Nordic region's lowest abortion rate, YLE, 3 Nov 2017
Bangladesh Family Planning Officials Face Challenge in Rohingya Camps, Radio Free Asia, 3 Nov 2017
'35 of 51 contraceptives safe, non-abortifacient', Philippine Star, 3 Nov 2017
It's Dangerous How Far Right the "Moderate" Position on Abortion Has Been Pulled, The Mary Sue, 3 Nov 2017
Unequal Women, Insecure World: The State of the World's Population in the Age of Inequality , New Security Beat, 3 Nov 2017
Right-Wing Magazine Says Birth Control Isn't Necessary for Women's Health. Women Say, Not So … Glamour, 3 Nov 2017
Teenagers and young adults learn sexual health through social media, Penn Current, 2 Nov 2017
I Ordered 20 Abortion Pill Packs from the Internet to Test If They're Real, Broadly, 2 Nov 2017