News Review – 1 December 2017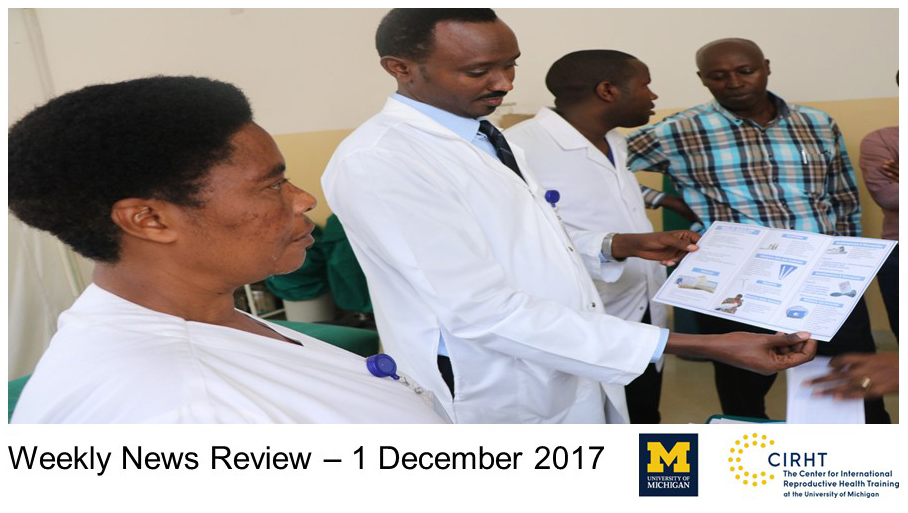 AIDS, Family Planning and Reproductive Justice
International AIDS Day on December 1st gave an opportunity to explore the link between access to family planning services and combatting HIV, which can both be related to gender inequality. Stigma around getting family planning counselling and access is closely linked to the stigma around getting tested for HIV or accessing treatment, causing "25% of pregnancy-related deaths in sub-Saharan Africa attributable to HIV and AIDS."
RTI International announced it was developing a new "multipurpose implant providing long-acting contraception and HIV prevention — the Subcutaneous Contraceptive and HIV Implant Engineered for Long-Acting Delivery (SCHIELD) device."
The Trump administration Global Gag Rule  that withholds funding from any international NGO that provides services for, information about, or references for abortion, has influence here as well: "roughly two-thirds of the funding affected by the expanded Global Gag Rule is for HIV/AIDS programs around the world, under the president's Emergency Plan for AIDS Relief (PEPFAR). PEPFAR has received broad bipartisan support and has been successful in reaching more than 13.3 million men, women, and children with lifesaving antiretroviral treatment."
A prospective study at Columbia University will look at the impact of the Global Gag Rule on women's health, starting with Kenya and Nepal. Another article from Madagascar shows the "serious consequences" of the rule on an island population where "10 women a day die from complications from pregnancy and childbirth."
Expanding family planning availability is the focus of initiatives announced this week in Cote d'Ivoire, Gambia, Ghana, and Nigeria, where "four million pregnancies are caused by poor access."
A few more ways to increase acceptance: a conference in Dakar addressed Muslim attitudes to contraception, "focused on values espoused in the Koran: the need for better maternal health and the need to ensure parents have resources to feed and educate their children." It also comes down to individuals, as with the Senegalese activist disseminating accurate sexual and reproductive health information.
More stigma-free access to all of those service are ingredients of Radical Reproductive Justice, which centers on "three interconnected human rights values: the right not to have children using safe birth control, abortion, or abstinence; the right to have children under the conditions we choose; and the right to parent the children we have in safe and healthy environments."
 International Abortion Barometer
In Malawi, the increase in population is "hindering quality health care." "53 percent of all pregnancies in the country are unintended; 141,000 abortions occur every year; 30 to 40 per cent of admissions in gynaecological wards in hospitals are due to abortion-related cases and 18 per cent of maternal deaths are due to unsafe abortion." A law that will increase access has been urged by "chiefs, religious leaders and politicians," but is being challenged by Episcopal and Catholic bishops.
Poland is "pushing abortion underground", while the Brazilian parliament is seeking to eliminate the right to abortion altogether, even in cases of rape. Human Rights Watch highlighted the case of a woman who petitioned directly to the Supreme Court to ask for permission to have an abortion, which was denied on procedural grounds. The conservative MPs may have gone too far as women "are ready to fight for the few reproductive rights they still have." South Korea is reviewing its anti-abortion law. In the UK, GPs may be free to issue abortion pills.
In the Nordic countries of Sweden, Finland and Norway, Abortion has been "non-politicised", though a number of challenges have emerged from "conscientious objectors" in the medical profession. A study in Women's Studies International Forum concludes, "although the recent Nordic developments have limited immediate consequences for the availability of abortion as a public service, they suggest, perhaps more importantly, that a long-term struggle is emerging over public opinion supporting universal abortion access." Worrying.
MD magazine looks at a recent WHO/Guttmacher study on the "Advancements and Challenges in Global Abortion Safety", quoting Bela Ganatra, lead author, scientist, Department of Reproductive Health and Research, World Health Organization (WHO): "It is surprising  — indeed heartbreaking — to see that over 25 million abortions in the world (almost 1 in 2) occur unsafely. This is despite the fact that medically speaking, safe abortion is a simple, safe primary care level service. It's not science that is holding us back, its stigma, its politics, it's the lack of trained persons, it's the many barriers that make it hard for women to access these services." Towards that safety, IPAS published a Medical Abortion Reference Guide.
Think Progress posits that a lack of proper medical school training in the US is causing a shortage of abortion doctors.
Complete News Review Source References:
Academic
Supplement: Just Reproduction: Reimagining Autonomy in Reproductive Medicine (full issue) Hastings Center Report, November-December 20178
Advancements and Challenges in Global Abortion Safety, MD magazine, 29 Nov 2017
Birth Interval Linked to Autism Risk, Medscape, 29 Nov 2017
Medical Abortion Reference Guide, IPAS, 28 Nov 2017
Thirty-year trends in the prevalence and severity of female genital mutilation: a comparison of 22 countries, BMJ Global Health, 25 Nov 2017
Dropping the ball or holding the line? Challenges to abortion laws in the Nordic countries, Women's Studies International Forum, 24 Nov 2017
Evaluating implementation of the World Health Organization's Strategic Approach to strengthening sexual and reproductive health policies and programs to address unintended pregnancy and unsafe abortion, Reproductive Health, 21 Nov 2017
Cote d'Ivoire
Un projet de loi sur la santé sexuelle reproductive "est en cours" (ministre), Agence de Press Africaine, 30 Nov 2017
Ethiopia
Midwifery in Ethiopia, EthiopiAid, 27 Nov 2017
Gambia
UNFPA Family Planning Campaign Commence In CRR, Foroyaa, 28 Nov 2017
Ghana
Public Urged To Embrace Family Planning, Modern Ghana, 25 Nov 2017
Madagascar
How a White House reversal affects a village in Madagascar, Toronto Star, 25 Nov 2017
Malawi
Malawi Bishops challenge pro-abortion lobby to a referendum, Vatican Radio, 30 Nov 2017
Condom Committee formed in Phalombe, Malawi News Agency, 29 Nov 2017
Male condom stock outs worry Mulanje Hospital, Malawi News Agency, 29 Nov 2017
Increase in population hindering quality health care, Malawi News Agency, 29 Nov 2017
Chiefs Want Controversial Abortion Bill Tabled And Passed, Capital Radio, 27 Nov 2017
Niger
West Africa population planners battle to woo Muslim hearts, Reuters, 30 Nov 2017
Nigeria
Minister inaugurates 26 national advocates on health, family planning, Daily Trust, 30 Nov 2017
Experts harp on family planning dividend, New Telegraph, 30 Nov 2017
Osun people declare end to female genital mutilation, Daily Trust, 30 Nov 2017
4m Pregnancies In Nigeria Caused By Poor Access To Family Planning – UNFPA, Gistmaster, 28 Nov 2017
Foundation collects data of women of reproductive age, Nigerian Expression, 27 Nov 2017
Senegal
"Behavior Change Is My Priority", Intra Health, 28 Nov 2017
Senegal leading the fight to end FGM in Africa, This is Africa, 28 Nov 2017
Tanzania
Region focuses on hostels to address early pregnancies, Daily News, 27 Nov 2017
Paid-for schooling can keep Tanzanian girls from early marriage, The Citizen, 26 Nov 2017
Uganda
Mom kept HIV a secret and her whole family tested positive, CNN, 1 Dec 2017
Omoro top in Acholi teenage pregnancy cases – survey, Daily Monitor, 29 Nov 2017
Being pregnant at campus, Daily Monitor, 27 Nov 2017
Monitor journalists win population awards, Daily Monitor, 27 Nov 2017
Zimbabwe
Parly Probes Effects of Contraceptives, The Chronicle, 28 Nov 2017
General/Global
The Global Gag Rule Impacts Hard-Fought Progress On HIV/AIDS Relief, Huffington Post, 1 Dec 2017
Medicaid patients can no longer use Planned Parenthood in Arkansas, KHOU, 1 Dec 2017
Survey: a majority of Americans disagree with the Trump administration on birth control, Vox, 1 Dec 2017
With two words, the US tax bill quietly threatens abortion rights, Quartz, 1 Dec 2017
Republicans tucked an irrelevant anti-abortion provision into the tax bill, Think Progress, 1 Dec 2017
To end AIDS, we must tackle gender inequality, STAT News, 1 Dec 2017
No Woman Should Need to Beg for An Abortion, HRW, 1 Dec 2017
Links Between Maternal Health, HIV and AIDS, MHTF, 1 Dec 2017
Indonesian National Population & Family Planning Board (BKKBN) to Develop Initiatives, Accelerating Access to Family Planning, Family Development, and Population Management Programs, PR Newswire/BKKBN, 1 Dec 2017
These Are the Government Officials Working Against Reproductive Rights, Teen Vogue, 30 Nov 2017
New multipurpose device to help prevent HIV and pregnancy, EurekAlert, 30 Nov 2017
Study: Colorado family planning program greatly reduced pregnancies, abortions among young women, The Denver Channel, 30 Nov 2017
Dems set for abortion showdown in Illinois, The Hill, 30 Nov 2017
South Sudan sees progress in curbing maternal deaths amid challenges, Xinhua, 30 Nov 2017
Hartford Ordinance Would Restrict Advertising By Anti-Abortion Centers, New England Public Radio, 30 Nov 2017
Why abortion — not sexual misconduct — is likely to decide the Alabama Senate race, Washington Post, 30 Nov 2017
How Poland's far-right government is pushing abortion underground, The Guardian, 30 Nov 2017
Columbia receives grant to study impact of expanded global gag rule on women's health, EurekAlert, 29 Nov 2017
Access to Health Care, Contraception in Utah Could Get a Lot Better in 2018, Rewire, 29 Nov 2017
Trump Administration Dangles Family Planning Cash for Anti-Choice Priorities, Rewire, 29 Nov 2017
The Guardian view on child marriage: wedlock is a padlock for girls, The Guardian, 29 Nov 2017
Trump's HHS nominee wants to balance reproductive rights with 'the conscience of the employer', Think Progress, 29 Nov 2017
Region's poor lack reproductive health access, Vietnam News, 29 Nov 2017
Internal Emails Reveal How the Trump Administration Blocks Abortions for Migrant Teens, Mother Jones, 29 Nov 2017
This Christian Woman Said Having An Abortion In A State Where The Procedure Is A Crime Was An "Eye-Opener", Buzzfeed, 29 Nov 2017
Brazil's Abortion Battle, Jacobin, 29 Nov 2017
GPs may be free to issue abortion pills, The Times, 29 Nov 2017
Federal judge overrules Texas ban on late-term abortion method, Daily Texan, 29 Nov 2017
How abortion could tip the scales in Alabama, The Hill, 29 Nov 2017
Spanish Planned Parenthood subsidiary stripped of government benefits, Catholic News Agency, 29 Nov 2017
Indonesia to revive centers of excellence for population and family planning, The Jakarta Post, 29 Nov 2017
Indonesia poised to expand global role in family planning: UNFPA executive, The Jakarta Post, 28 Nov 2017
The Future Is 'Radical Reproductive Justice', Rewire, 28 Nov 2018
Colorado Anti-Abortion Group Wants Potential Fathers To Have A Say In A Woman's Abortion Decision, HuffingtonPost, 28 Nov 2017
Women can wait up to a month to see an abortion provider in Queensland says doctor, Brisbane Times, 28 Nov 2017
The long five minutes: Abortion doulas bring comfort during a complicated time, Washington Post, 28 Nov 2017
The First Amendment Case That Could Upend Abortion Law, The Intercept, 27 Nov 2017
'One minute we're talking glitter, the next reproductive rights': the rise of nail bar activism, The Guardian, 27 Nov 2017
Philippines' poorest hit hardest by birth control failings, 'toothless' family planning law and interference from church, South China Morning Post, 27 Nov 2017
Medical school training is exacerbating the shortage of abortion doctors across the country, Think Progress, 27 Nov 2017
After Irma and Maria, Planned Parenthood Offers Free Emergency Services in Florida, Miami New Times, 27 Nov 2017
Quang Ninh hosts forum on reproductive, sexual health, Vietnam Plus, 27 Nov 2017
The Role-Playing Video Game Where Teens Navigate Sex, Broadly, 27 Nov 2017
South Korea to review whether or not to abolish anti-abortion law, Reuters, 26 Nov 2017
Pregnant girl ordered to be detained by judge, Sunday Times, 26 Nov 2017
Haiti – Health : Towards a strengthening of the response in reproductive health, Haiti Libre, 26 Nov 2017
UK mulls tougher laws to protect women from abortion clinic protesters, The Guardian, 26 Nov 2017
Crucial Vote in Brazil Could Lead to Ban on Abortion for Rape Victims, Medscape/Reuters, 22 Nov 2017