News Review – 8 December 2017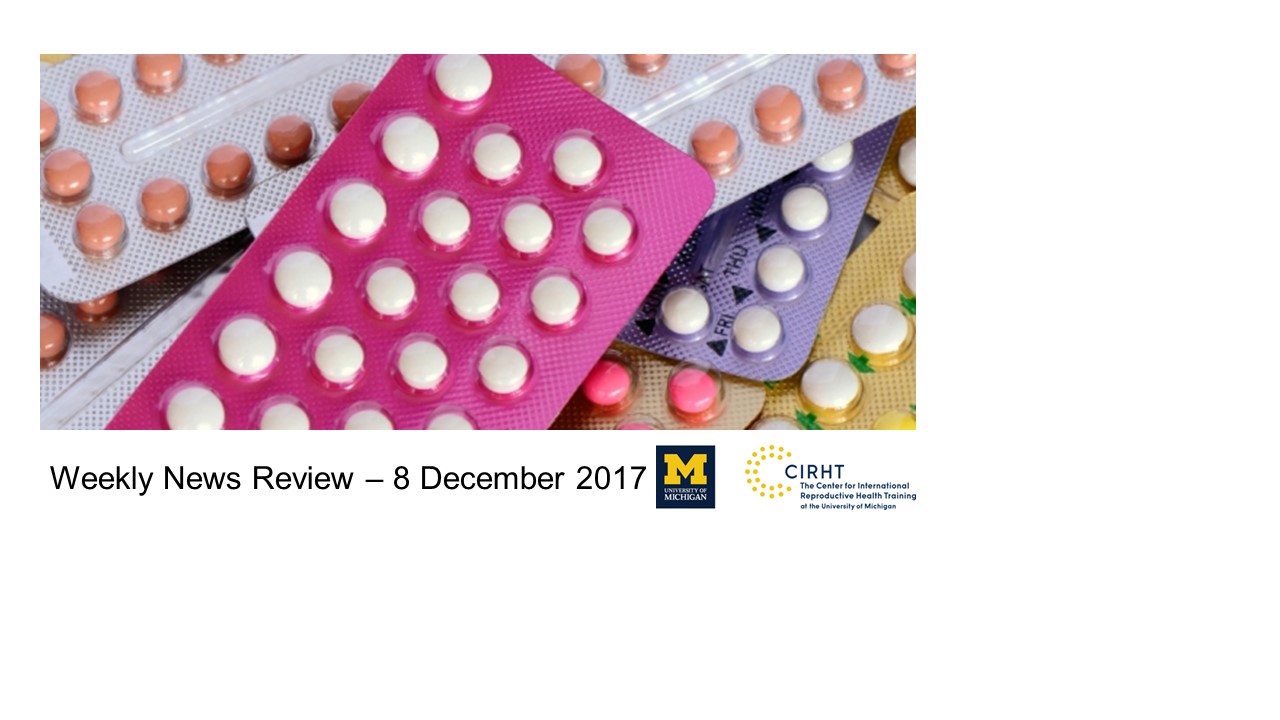 FP2020 5-year Anniversary
FP2020 marked its fifth anniversary with a bold "Way Ahead" recommitment to its mission: "We believe that every woman and girl must be empowered to shape her own life. We know that rights-based family planning is a critical element to empowerment. And we are confident that the FP2020 approach—country-led, grounded in human rights principles, buttressed by data and evidence, and accountable to all—is the way ahead." It is "gaining momentum in the world's poorest countries."
This week's review is based on FP202's accomplishments and goals:
"As of July 2017, more than 309 million women and girls in the 69 FP2020 focus countries are using a modern method of contraception. This is 38.8 million more than were using contraception in 2012."
The week saw evidence across the spectrum about the effectiveness of access to contraception. The Center for Global Poverty and Development released a report that stated that "simply having access to contraception gives women a brighter future… regardless of whether a woman is actually taking contraception or not", with the Economist noting that availability alone "raises female school attendance." In Colorado, a contraception program has led to savings of millions through a drastic reduction in abortions and teen births.
One study from Ethiopia looks at "Expanding Contraceptive Choice and Improving Access to Long-Acting Reversible Contraception." Reproductive Health features a global review of "provider and lay perspectives on intra-uterine contraception", while a new guide to High Impact Practices declares Immediate Postpartum Family Planning: A key component of childbirth care. ACOG issued a Practice Bulletin on Long-Acting Reversible Contraception: Implants and Intrauterine Devices.
The Safe Motherhood Initiative is celebrating its 30th anniversary, during which the world has seen a 44 percent decrease in maternal mortality. One of the main factors: "Reliable access to a mix of modern contraceptive methods." It needs restating: Despite new branding, abstinence-only programs don't work. The Financial Times lists six ways to increase uptake of family planning, including "long-acting contraceptives, mobile services and incentives." Another way to make access easier: "online services that bring birth control straight to a person's mailbox. "
"Rights-based family planning programs have a greater ripple effect than almost any other development investment, from saving lives and improving health to strengthening economies, transforming societies, and lifting entire countries out of poverty."
The Ghana Graphic Online notes that managing population growth improves quality of life, one reason, perhaps, that traditional chiefs and queen mothers are rallying to support family planning initiatives. More programs were launched in the past week in Egypt and Madagascar. Youth in Malawi are demanding private rooms for SRH counseling and care. Rwandan researchers want the vaginal ring integrated into family planning programs. While international technical and financial support may be necessary, programs must have local ownership, as withTthe Challenge Initiative in Nigeria.
"FP2020's measurement agenda is revolutionizing the family planning sector, enabling governments, donors, and civil society organizations to use data for program decisions and investments."
Statisticians at the University of Massachusetts "found that 63 percent of countries that have made a commitment to FP2020 exceeded [previous] expectations for modern contraceptive use."
That measurement can monitor successes as well as challenges, which exist everywhere as well. Among which: the physical constraints of the supply chain ; attitudes in traditional societies including the "Lobola" or bride-payment system in Zimbabwe or among refugees from South Sudan in Uganda. In Kenya, the high rate of teen pregnancies is a burden, blamed in the south on "boda boda" bicycle taxi drivers. Nigeria is seeing a rise in teen pregnancy, where "child and forced marriage, cultural and religious beliefs are fingered as factors responsible for the woe."
One new study continues to document a risk of increased breast cancer associated with use of hormonal contraceptives, though officials with ACOG "emphasized that hormonal contraceptives are for many women "among the most safe, effective and accessible options available."
And funding all of the efforts could be the biggest barrier. While Canada has renewed its UNFPA funding, overall donor funding for family planning is declining for the second year in a row – the Kaiser Family Foundation (KFF) reported a 12% drop from 2015 to 2016 – and with the full force of the United States cuts set to kick in across the sector next year, "progress is likely to become more challenging," according to Devex. The proposed US tax reform law (which includes a stealth attack on legal abortion) is "bad news for birth control," leading Senate Democrats to call on hundreds of thousands of advocates and patients to demand reinstatement of the benefits.
The Contraception Effect on Abortion Rates
FP2020 does not address abortion, but providing abortion should follow the same rights-based framework. Sadly, the statistics show that "while more corners of the world are legalizing abortions and old stigmas are beginning to turn, a shocking number of women and girls continue to be at risk of unsafe abortions" – some 45% of the global total.
Laws are changing to allow greater access in Malawi (where some priests are advocating for the change) and Bolivia; Egypt is codifying its restrictions (life of the mother; unviable fetus); in South Africa, a study in Contraception looks at identifying opportunities to expand public sector access to safe abortion; nevertheless, a private member's bill has been introduced which would require counselling before an abortion. That same issue of Contraception, which exclusively addresses medical abortion, also includes research from Benin and Burkina Faso about the potential for use of misoprostol. An article from South Africa's Bhekisisa says that in the face of a shadowy network of doctors, herbalists and conmen, women across the region are turning to "at-home, do-it-yourself abortion drugs that are mailed thousands of kilometres across continents and to countries where the procedure is illegal. They are breaking the law to get the pills that will, they believe, be far safer than back-alley abortions."
Brazil is "grappling with its own version of Roe v. Wade". Ireland, which will have a referendum on its abortion law in 2018, was criticized by the Council of Europe's Commissioner for Human Rights over the current restrictions. The Council, though, warned of a backlash to abortion access through "retrogressive restrictions" across the continent. The abortion debate in South Korea requires a "reality check", while in Singapore that reality "shows the needs of women and children are not being met." There may be hope for the release from jail of a Salvadoran woman who miscarried and imprisoned for a suspected abortion.
In the US, abortion rates have fallen to historic lows; nevertheless, the Republicans are waging a war on women's rights.
Internationally, the global gag rule will cause "women and girls to die" in Mozambique. KFF estimates that at least 1,275 foreign NGOs and 469 US NGOs, and over $2.2 billion annually could be affected.
Domestically, abortion politics are the "get-out-of-jail-free" card for Republicans, who are using it in political battles to push restrictions in Alabama, Kentucky, Illinois, North Carolina, Missouri, Pennsylvania, and Ohio.
Abortion has always been a part of society, even the heavily religious society in Malta in the 17th and 18th centuries, as a report in the Times of Malta reports: "The slave population seems to have been active in providing abortion services [which] were sought after throughout the social spectrum, from the nobility to the less privileged classes, from nuns to prostitutes."
Media Messages
How it is portrayed in popular media can influence attitudes. In Cote d'Ivoire, "C'est la vie", a pan-African TV series dealing with SRHR, debuted. Refinery29 looked at How Different Genres Of Television Handled Abortion In 2017; on the 10th anniversary of its release, Juno continues to affect young women: 'Juno' Made Me Feel Less Alone After I Got Pregnant as a Teenager. And the Lady Parts Justice League premiered an iconoclastic "Justice League We Deserve" – definitely worth a viewing.
Complete News Review Source References:
Academic
Contemporary Hormonal Contraception and the Risk of Breast Cancer, New England Journal of Medicine, 7 Dec 2017
New Interactive Tool: Evidence Mapping on Social, Behavioral and Community Engagement Interventions for Reproductive, Maternal, Newborn, Child and Adolescent Health, MHTF, 6 Dec 2017
Immediate Postpartum Family Planning: A key component of childbirth care, Family Planning High Impact Practices, 6 Dec 2017
Dapivirine Vaginal Ring Use Does Not Diminish the Effectiveness of Hormonal Contraception, Journal of Acquired Immune Deficiency Syndrome, 5 Dec 2017
Medical Abortion-Special Issue, Contraception, December 2017 (see below for research articles from Burkina Faso and South Africa)
Medical and surgical abortion for women living with HIV, Cochrane Fertility Regulation Group, 8 Nov 2017
Long-Acting Reversible Contraception: Implants and Intrauterine Devices, ACOG Practice Bulletin, November 2017
Contraception supply chain challenges: a review of evidence from low- and middle-income countries, The European Journal of Contraception & Reproductive Health Care, 31 Oct 2017
Provider and lay perspectives on intra-uterine contraception: a global review, Reproductive Health, 26 Sep 2017
Burkina Faso
Abortion in two francophone African countries: a study of whether women have begun to use misoprostol in Benin and Burkina Faso, Contraception, December 2017
Cote d'Ivoire
La série télévisée panafricaine ''C'est la vie'' présentée à Abidjan, Abidjan.net, 5 Dec 2017
Egypt
Rady launches a family planning campaign in Kafr El-Sheikh, Egypt Today, 5 Dec 2017
1st Egyptian Medical Liability draft law to regulate abortion, Egypt Today, 3 Dec 2017
Ethiopia
Strengthening Postabortion Family Planning Services in Ethiopia: Expanding Contraceptive Choice and Improving Access to Long-Acting Reversible Contraception., Global Health, Science and Practice, 18 Aug 2017
Gambia
UNFPA ends campaign in CRR, The Point, 8 Dec 2017
Ghana
Gender Ministry to launch 'HeForShe' campaign, Graphic Online, 8 Dec 2017
Central Region: Chiefs And Queenmothers Rally Support For Family Planning, Modern Ghana, 6 Dec 2017
Safeguard the Sexual and Reproductive Needs of PWDs, Peace FM, 6 Dec 2017
PPAG organises workshop on sexual and reproductive health, Ghana Web, 7 Dec 2017
Managing population growth improves quality of life, Graphic Online, 5 Dec 2017
Kenya
UN study blames high teen pregnancies on boda bodas, Daily Nation, 8 Dec 2017
High rate of teen pregnancies is a burden to Kenya: UNFPA official, Daily Nation, 7 Dec 2017
Madagascar
Droits en santé sexuelle et reproductive : Un plaidoyer en cours d'élaboration, Midi Madagasikara, 8 Dec 2017
Malawi
Youths decry lack of special rooms for SRH services in hospitals, Marabi Post, 8 Dec 2017
Priest Advocates for Enactment of New Abortion Law, CSJ News, 8 Dec 2017
After Avoiding Early Marriage, Malawi Woman Provides Free Education to Rural Girls, VOA, 6 Dec 2017
Mozambique
'Women and girls will die': Trump's foreign aid rule on abortion, Al Jazeera, 8 Dec 2017
Nigeria
Odeku: Home-grown family planning models can reduce maternal deaths, New Telegraph, 7 Dec 2017
Complexities Fronting Millions of Pregnant Nigerian Girls, This Day, 7 Dec 2017
Persons With Disabilities Want Pro-Sexual, Reproductive Health Policy, The Whistler, 3 Dec 2017
Rwanda
Clinical researchers want vaginal ring integrated in family planning, New Times, 7 Dec 2017
South Africa
Private-member bill set to revive abortion debate, Business Day, 8 Dec 2017
Doing more for less: identifying opportunities to expand public sector access to safe abortion in South Africa through budget impact analysis, Contraception, December 2017
Uganda
Ending child marriages could generate Shs10 trillion, The Monitor, 8 Dec 2017
Museveni cautions youth on reckless sex, Daily Monitor, 3 Dec 2017
Little success with family planning among refugees, Daily Monitor, 3 Dec 2017
Plan International, UWOPA call for girl-child protection, Daily Monitor, 3 Dec 2017
Zambia
What's a man's role in family planning?, Daily Mail, 8 Dec 2017
Zimbabwe
Lobola affects family planning, safer sex practices, The Southern Times, 8 Dec 2017
General/Global
In a rare court challenge to its abortion ban, Brazil grapples with its own version of Roe vs. Wade, Los Angeles Times, 8 Dec 2017
Stealth attack on legal abortion has no place in a tax plan, Chicago Sun-Times, 8 Dec 2017
Nebraska Democrats resist litmus test on abortion, Omaha World-Herald, 8 Dec 2017
Six ways to increase uptake of family planning, Financial Times, 8 Dec 2017
Signed, Sealed, Delivered – Why Abortion-By-Mail Services Are Spreading, Bhekisisa, 7 Dec 2017
Study shows family planning may have more benefits than meet the eye, Malay Mail, 8 Dec 2017
Abortion Is the Get-out-of-Jail-Free Card of Republican Politics, Reason.com, 8 Dec 2017
Salvadoran woman jailed for abortion crimes hopes for early release – rights groups, Reuters, 8 Dec 2017
Birth control delivery services are changing the way women manage their reproductive health, Yahoo!, 8 Dec 2017
This Is How Different Genres Of Television Handled Abortion In 2017, Refinery29, 7 Dec 2017
Progress On Family Planning, But Obstacles Remain, Giving Compass/Devex, 7 Dec 2017
Decrease in teen births saving Colorado millions, Pueblo Chieftain, 7 Dec 2017
Access To Contraception Benefits Girls — Even If They're Not Using It, New Study Finds, Romper, 7 Dec 2017
Contraception does even more good in poor countries than thought, The Economist, 7 Dec 2017
Bolivia lawmakers vote to ease right abortion restrictions, ABC News, 6 Dec 2017
Abortion rates fall to historic low amid GOP battle on women's rights, Newsweek, 6 Dec 2017
Down Syndrome anti-abortion bill setting blazing pace through legislature, NBC4, 6 Dec 2017
Birth Control Pills Still Linked to Breast Cancer, Study Finds, The New York Times, 6 Dec 2017
Despite new branding, abstinence-only programs don't work, The Hill, 6 Dec 2017
Joining Hundreds of Thousands of Advocates and Patients, Senate Democrats Demand Trump Administration Reinstate Birth Control Coverage for Millions of Women, Sen. Patty Murray, 6 Dec 2017
NEW HIP Brief! Immediate Postpartum Family Planning: A key component of childbirth care, HIFA, 6 Dec 2017 (See "Academic" for full brief)
Male family planning fortnight concludes, The Tribune (India), 6 Dec 2017
Abortion Access Is a Myth For Rural Women in Hawaii, Mother Jones, 6 Dec 2017
Council of Europe warns on backlash to abortion access, EU Observer, 6 Dec 2017
Canada announces renewed funding for UN Population Fund , Global Affairs Canada, 6 Dec 2017
Abortion foes fall short on ballot push, Newburyport News, 6 Dec 2017
New estimates of modern contraceptive use in the world's poorest countries, Medical Xpress, 5 Dec 2017
Alliance for Choice Statement on the closure of Marie Stopes Belfast, Alliance  for Choice, 5 Dec 2017
'Juno' Made Me Feel Less Alone After I Got Pregnant as a Teenager, Broadly, 5 Dec 2017
Donor Government Funding for Family Planning in 2016, Kaiser Family Foundation, 5 Dec 2017
Pennsylvania Lawmakers Advance 'Dismemberment Abortion' Ban, NBC Philadelphia, 5 Dec 2017
Family planning data meeting, The Nation (Pakistan), 5 Dec 2017
The Way Ahead, FP 2020, 5 Dec 2017
Does The Tax Bill Affect Birth Control? It's Bad News For Women, Elite Daily, 5 Dec 2017
Missouri's attack on women's reproductive rights, St. Louis Today, 5 Dec 2017
Lady Parts Justice League Premieres the Hilarious THE JUSTICE LEAGUE WE DESERVE, Broadway World. 5 Dec 2017
Crisis pregnancy centers often provide false, misleading information, Journalists Resource, 5 Dec 2017
New report on women's health criticises Ireland's restrictive abortion laws, Irish Times, 5 Dec 2017
The Single Best Intervention: Thirty Years of Safe Motherhood, New Security Beat, 4 Dec 2017
Contraceptive use gaining momentum in world's poorest countries, Thomson Reuters Foudnation, 4 Dec 2017
How Many Foreign NGOs Are Subject to the Expanded Mexico City Policy?, Kaiser Family Foundation, 4 Dec 2017
Progress needed to ensure women's sexual and reproductive health and rights in Europe, Council of Europe, 4 Dec 2017
Teen Pregnancy, Abortion Rates Plummet in Colorado Thanks to Contraception Program, Rewire, 4 Dec 2017
Nearly Half Of All Abortions Worldwide Are Unsafe, IFL Science, 4 Dec 2017
Church official: People should think twice about full implementation of RH Law, Manila Bulletin, 4 Dec 2017
Beyond Politics: The Realities of Abortion Access in Alabama…, Alabama Public Radio, 4 Dec 2017
Kentucky's 20-week abortion ban: A ticking clock on a complex pregnancy, CNN, 4 Dec 2017
FPA: Sex education needed in schools, Trinidad Express, 3 Dec 2017
WV AG's office says it's coming to the defense of NC's abortion law, WSAZ, 3 Dec 2017
Time for reality check on abortion, Korea Herald, 3 Dec 2017
Abortion shows needs of women and children are not met, Singapore Times, 3 Dec 2017
Abortion in Malta at the time of the Knights, Times of Malta, 3 Dec 2017
Ohio's abortion-clinic inspections more frequent under Kasich, Columbus Dispatch, 3 Dec 2017
Future bleak for 200 NGO workers as govt cuts funds, Times of India, 2 Dec 2017
IUD program leads to decline in teen pregnancies, abortions, Sacramento Bee/AP, 2 Dec 2017
Government of Sweden and four UN agencies announce new Joint Programme to boost efforts to achieve universal access to sexual and reproductive health and to end AIDS, WHO, 1 Dec 2017
Lawsuit Seeks to Block Illinois Abortion Coverage Expansion, Medscape, 1 Dec 2017
Cytotec off the market in France from March 2018, Safe Abortion Women's Rights, 31 Oct 2017