CIRHT Founder Dr. Senait Fisseha honored with University of Michigan Bicentennial Alumni Award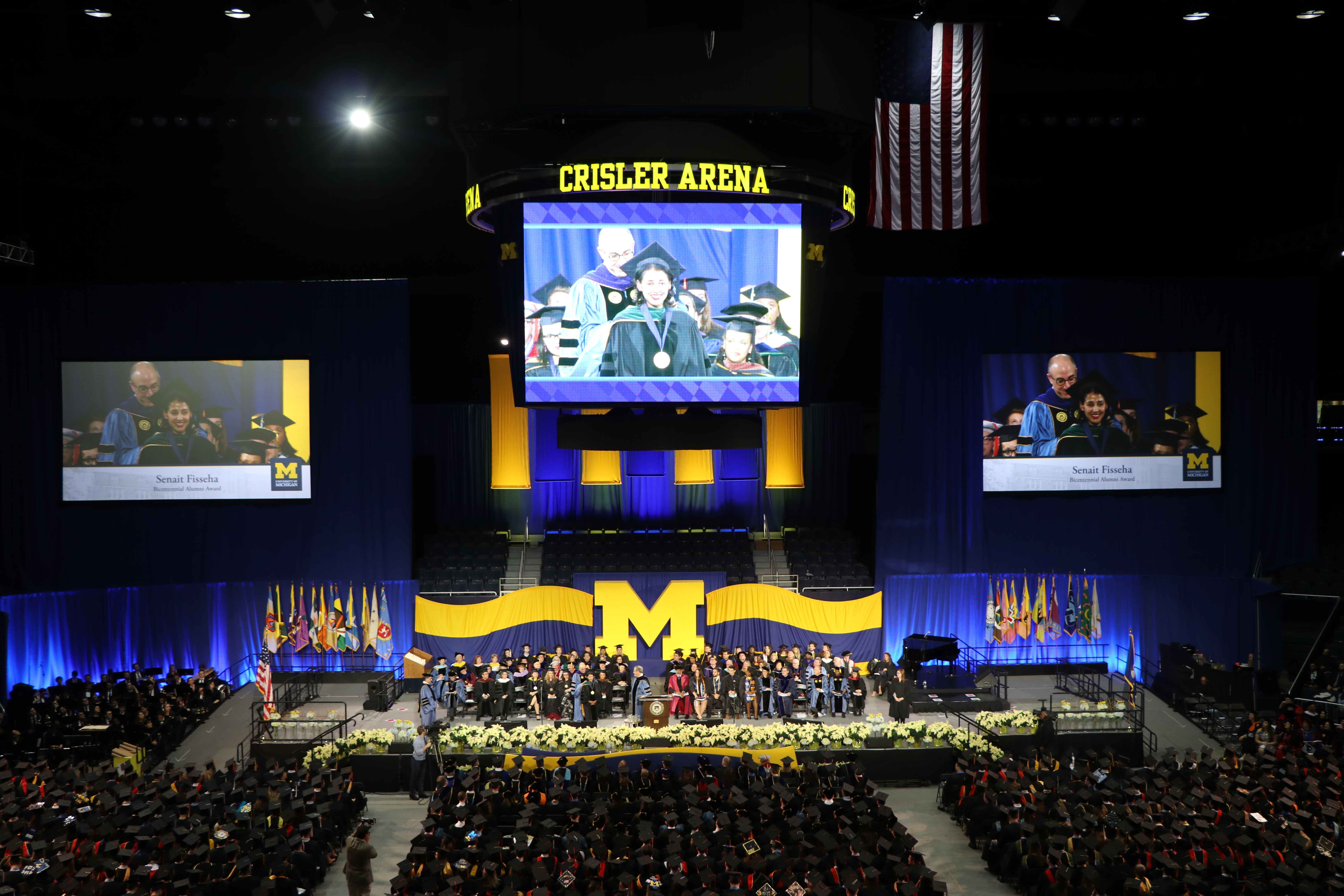 For her work as a "global leader in expanding access to reproductive health and reproductive rights," Dr. Senait Fisseha, MD, JD, founder of the Center for International Reproductive Health Training at the University of Michigan (CIRHT), was honored as one of the university's Bicentennial Alumni Award winners at the Winter Commencement on December 17, 2017.
Reading the citation at the graduation ceremony, university president Dr. Mark Schlissel noted her advancement of women's health and reproductive rights as well as her forging of strong relationships with the Ethiopian Ministry of Health.
Dr. Fisseha had invited the then-Health Minister of Ethiopia, Dr. Tedros Adhamon, to visit the U-M campus in 2011 for discussions which eventually led to the establishment of a partnership with the St. Paul's Hospital Millennium Medical College in Addis Ababa to fully integrate Family Planning and into the medical school's curriculum. Dr. Fisseha's work for the success of that pilot led to the creation of CIRHT and its expansion to nine other medical schools across the country. In 2015 she took on the role as Director of International Programs at the Susan T. Buffett Foundation.
Dr. Fisseha chaired Dr. Tedros' successful campaign in 2016-2017 as he was elected the first ever African Director-General of the World Health Organization and led his transition team. She guided the recruitment of the senior leadership team that for the first time represented top talent from 14 countries, including all WHO regions, and is 60% women.
In a recorded message, Dr. Tedros said, "It is very difficult to summarize my respect for Senait. Her contributions to Ethiopia, to global health, and to me are really immense. The partnership between St. Paul's and the University of Michigan was an ideal match, because both institutions had vision and ambition, and a common vision to transform health services in Ethiopia. But the partnership would never have been nearly as successful without Senait's leadership."
She completed her internship ('00), residency ('03) and fellowship in reproductive endocrinology and infertility at the university, eventually becoming the Chief of the Division of Reproductive Endocrinology & Infertility and then Medical Director at the Center for Reproductive Medicine.
Some 150 friends and colleagues from across the university gathered to salute Dr. Fisseha on her recognition. Chosen as one of only 20 recent alumni to receive the distinction, she said she was overwhelmed with the distinction. "I have always been a person who speaks up about things that matter. To me, what has always mattered in addition to patient care and research and teaching, is social justice. At Michigan, a university where social justice is core value, I was able to learn how much can be accomplished through collaboration with people in every corner of the university."
"From the beginning Senait and I bonded over our passion for furthering the rights of women to determine their own reproductive future, and for reproductive justice, not just here, but around the world," CIRHT Managing Director Janet Hall said in her tribute. "Because of the work that Senait spearheaded, reproductive health training and services with a focus on access to safe abortion and family planning are integrated into medical and nursing education". When the Ethiopian Ministry of Health says 'thank you for the work you do at the University of Michigan to help save the lives of women and girls in our community', we say, 'All thanks to Senait.'"
The audience at the reception, organized by CIRHT in honor of her recognition, reflected the breadth of her university relationships, including colleagues from the department of obstetrics and gynecology, where she maintains her role as an adjunct professor. Collaborators from the departments of anesthesiology, pathology, ophthalmology, nephrology, cardiology, pediatrics, internal medicine, transplant and surgery, and from the School of Public Health, College of Engineering, Rackham School of Graduate Studies, Taubman Health Science Library and Michigan Medicine's IT department – all of whom had been able to work on projects in Ethiopia which were triggered by Dr. Fisseha – also attended.
"I am really overwhelmed and so grateful by this honor and this reception", Dr. Fisseha said.
Dr. Fisseha, who remains as the Chief Advisor to Dr. Tedros, vowed to continue to work for reproductive justice around the world.