Update on the US Abortion Access Battle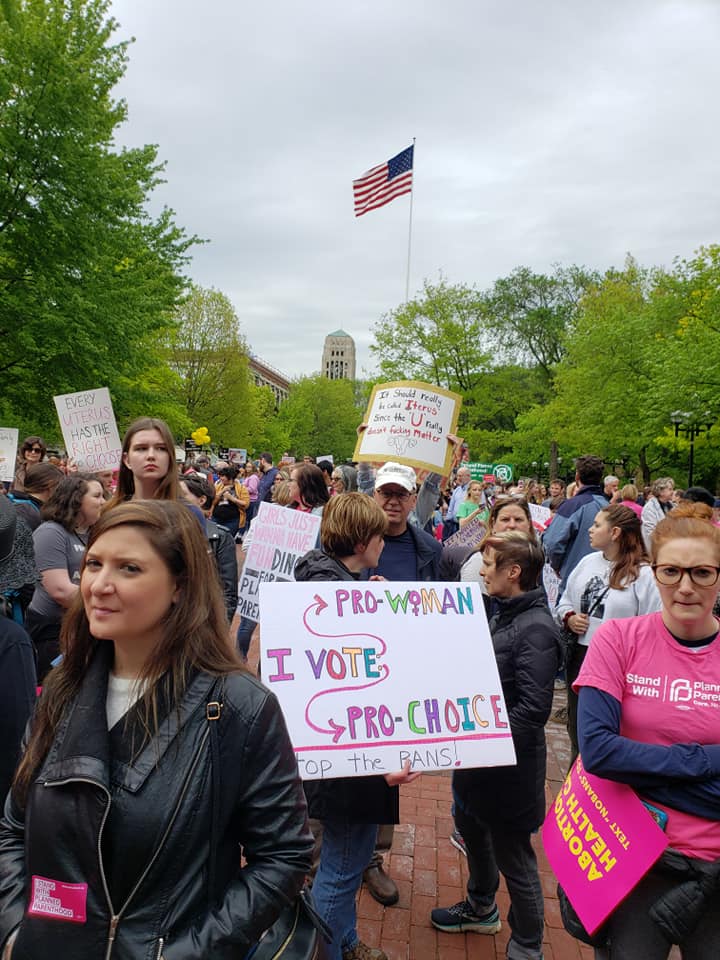 The Trump administration changed criteria on a public funding program for women's health referred to as Title X, expanding its global gag rule domestically so that no funds can go to any organization that performs abortions (even if the funds are not use for abortions). Planned Parenthood, as the largest provider of family planning and women's health services in the US would be the prime target of the rule. Lawsuits followed from two dozen states and municipalities, the American Medical Association and numerous family planning organizations, asserting, among other things, that the new rules will lead to "more unplanned pregnancies, disease transmission and sex trafficking," and cause a wider public health crisis, including jeopardizing preventive care. Close to home in Michigan, the changes could adversely affect some 63-thousand low-income women. The rules were temporarily blocked, and the challenges in the courts continue.
Meanwhile, the administration gave $5.1m family planning grant to centers that oppose abortion and don't offer contraceptives, and issued "Conscience Clause" rules that allow medical practitioners to refuse "to participate in abortion, sterilization, or assisted suicide procedures."
A poll found that most Americans oppose the restrictions.
Even though 58 percent of Americans support abortion rights, and 1 in 4 American women will have an abortion, individual states in the US are moving in divergent directions. "Heartbeat" bans, and abortion bans after six or eight weeks in states like Alabama (opposed by 56 percent of the US population), Louisiana, Mississippi (subsequently blocked by a federal judge), Georgia (with a backlash coming from Hollywood which spends $2.7 billion in production there), and Missouri, which may become the first state without an abortion clinic. In some of those states, prosecutors have state they will not enforce the new laws, yet doctors in 21 states face jail time for performing abortions beyond state-established limits.
The bills are "breeding fear and confusion." The intent is clear: get the laws challenged and let the Supreme Court rule and water down or reverse Roe v. Wade. A challenge in Kansas backfired on anti-abortion groups, with the court ruling the state constitution protects abortion rights. Yet in California, Maine, Illinois, Nevada, Hawaii and Virginia, an opposite trend to guaranteed rights, greater access, and more provision options.
Some fun facts about those states with increasing restrictions: States with the worst anti-abortion laws also have the worst infant mortality rates; States with Abortion Bans Have Few Female Lawmakers; A sponsor of an Ohio abortion bill thinks you can re-implant ectopic pregnancies. (You can't); in Alabama "a man and an aborted fetus are suing the manufacturer of an abortion pill and the clinic that provided it to his then-girlfriend"; and, needless to say, Under new abortion laws, men who impregnate women face zero consequences (although a Georgia state representative drafted a "Testicular Bill of Rights"!).
The effects of the restrictions can be counter-intuitive: In Texas, the laws that restricted access to abortion clinics actually led to more second trimester abortions.
Four states have laws that doctors must tell clients that medication abortions can be "reversed." Eight more states have proposals. The "reversal" theory has been a favorite of the anti-abortion movement. Now, research will attempt to get to the science behind the legislative moves. Lead researcher Dr. Mitchell Creinin, says the law is based on "absolutely zero science." Confronted with the possibility that their theory may be disproved, anti-choice advocates are decrying the study, calling it "unethical" and claiming that it will put patients through the "trauma of an abortion twice."  
It is apparent that abortion restrictions carry economic cost for women. It also seems that corporate America also sees lack of reproductive rights and services as a threat. A NARAL/Harris Poll showed, "consumers and employees overwhelmingly agree that women's empowerment is tied to their reproductive freedom, which includes the ability to access birth control and abortion care." Further, "60% of employees would be more loyal to a company that covered abortion care." Seven CEOs and cofounders of women's health companies published an open letter in The New York Times "challenging corporate America in standing up for reproductive rights." The anti-abortion laws are testing the "activist reputations of business chiefs," and leaving people wondering if corporations can save us from the attack on reproductive rights.
Terminology is an increasingly important factor in polarizing the abortion battle: "Conscious Clause" and "Abortion Reversal" as mentioned above, and "Heartbeat Bills", "Late-Term", "Fetal Heartbeat",  "Forced Pregnancy", "Abortion Regret" , "Born Alive". Vox has a handy explainer on some of the facts and myths behind the terms. NPR reviewed and changed its language around abortion coverage: "On the air, we should use "abortion rights supporter(s)/advocate(s)" and "abortion rights opponent(s)" or derivations thereof (for example: "advocates of abortion rights"). It is acceptable to use the phrase "anti-abortion", but do not use the term "pro-abortion rights"…Do not use "pro-life" and "pro-choice" in copy except when used in the name of a group."
The idea that a total ban could come to the US is terrifying, as explain in an essay How Banning Abortion Will Transform America, which looks at the Romanian ban from 1966 to 1990: "…a rapid increase in maternal mortality, an explosion of unwanted children and orphans, and a 'sex recession,' as wives choose to avoid intimacy with their husbands altogether."